My Father and My Brother Were Killed in the Persecution (Photo)
October 07, 2008 | By a Falun Dafa practitioner from China
(Clearwisdom.net) On September 19, 1999, Falun Gong practitioner Yu Zhenyi from Harbin City, Heilongjiang Province was arrested and illegally detained. During September 2001, he was sentenced to four years in jail. At that time he had already been tortured. During April 2002, he was transferred to the Harbin Third Prison. On April 25, 2002, his family took him from Wanjia Forced Labor Camp to the Second Hospital affiliated with Harbin Medical University for emergency treatment. An examination showed that he had been violently hit in the head and was suffering from severe internal injuries. He died on May 14, 2002. His father, Yu Guanyun, was arrested during July 2002 and was sentenced to three years of forced labor. He died on January 11, 2003, as a result of the torture he endured in Changlinzi Forced Labor Camp and in the hospital in Wanjia Forced Labor Camp in Harbin. To avoid near certain arrest, his younger brother, Yu Zhenxiong, has not returned home for the past five years.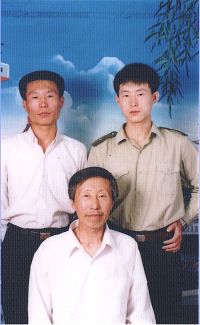 Yu Zhenyi (left), his younger brother, Yu Zhenxionag, (right) and father, Yu Guanyun, (middle)
Mr. Yu Zhenxiong's account:
On September 19, 1999, the police arrested my elder brother, Yu Zhenyi, for printing Falun Dafa books. After that, my father went the police department and the Procuratorate, running between these two places. My brother was being held at the detention center. The city police department and the Procuratorate sent his case to one another and neither wanted to proceed with it. He was detained in the detention center for two or three years without any explanation.
Mr. Yu Zhenyi's health deteriorated rapidly. He was transferred to another cell called the "Gaojian" cell. This so-called "Gaojian" cell was a little better than the ordinary cells in that there were fewer people in it and he could have some rice in his meals. But we had to pay 700 yuan per month for him to stay there.
Every time we saw him, he was always very determined in cultivation and indicated that he would not give up.
In early 2002, two years after he was arrested, he was sentenced to four years in jail, falsely charged with the crime of committing "illegal business." He was sent to a prison in Beian, Heilongjiang Province. Not long afterward my father received a notice saying that my brother had been sent back to the Nangang Detention Center in Harbin City because a medical examination showed that he had tuberculosis. He was very weak but was still kept in a cell without any daylight.
In April 2002, my brother was transferred to the Harbin City Third Prison. I went there with my father and one of our friends. Through endless metal doors we got to the prison hospital. When we saw him, he was terribly emaciated. Because he couldn't practice the Falun Gong exercises or study the Fa and had been in the cell in an appalling environment, he was in a state of unconsciousness.
Only one day after we returned home, at about 9:30 p.m., we received a call from Wanjia Forced Labor Camp officials. We were told that my brother was dying and were asked to come to see him for the last time. Without notifying us, he had been transferred to Wanjia Forced Labor Camp from the Third Hospital. I asked them why he was dying, mentioning that he was OK when I saw him several days prior. My father and I went to Wanjia Labor Camp by prison car. Again through endless metal doors, we came to the third floor of the labor camp hospital building. Directed by the police, we saw my brother lying on a gurney. He was breathing heavily, and his throat was full of phlegm. His lower front tooth was broken with only a thin thread of flesh attached to the gum. He had lost his senses. I had no intention of arguing with the police as to why my brother had ended up like this. I let them apply for bail for medical treatment for him. We waited for another hour before the bail was approved. It was midnight. He was sent to the Harbin City Second Hospital affiliated with the Medical University. A hospital exam showed that he had been violently hit in the head, he was full of internal injuries, and his lungs were punctured and infected with tuberculosis. The hospital refused to accept him.
While my brother was at the hospital, two policemen were always outside his room. Because this hospital was not a hospital for infectious diseases, they asked me to transfer my brother to another hospital. I asked for help from the police but they said that it was not their business. Later my brother's bed was put in the hospital corridor, and he gradually came to his senses without any medication. I knew it was the power of Dafa. He told me that he had been injected with tap water when he was in prison. About five or six people were injected with tap water (Please note that China's tap water is bad and is not fit for drinking unless it's boiled).
During his stay in the hospital, I was running around between the hospital, the detention center, and the Procuratorate to complete the procedures to allow my brother to serve his sentence outside the prison. The May 1 long public holiday was coming soon and people in the Procuratorate weren't willing to take care of this thing. They even said that it was better that he died. Later, two directors of the detention center were afraid that my brother would die while in their custody, so to avoid the responsibility, they tried very hard to contact people in the Procuratorate for us. Eventually we completed all the procedures.
My brother finally came home. I thought everything would be OK from then on, and we just waited for him to recover. But from time to time he was still unconsciousness. On May 14, 2002, he passed away and left us forever.
Less than three months after my brother died, my father was arrested by officers from the Security Brigade of the Harbin East Station Police Department when he was putting up Falun Gong posters on the street. They came to my home with my father. Without any legal documents and even without my father accompanying them, they took our house keys, opened the door, and entered our home. They confiscated all our Dafa books, photos, video tapes and Teacher's articles. They also stole 2000 yuan in cash that my father had put in an envelope.
My father was detained in the detention center of the Taiping Police Department in Harbin City. Several days later, he was transferred to Changlinzi Forced Labor Camp in Harbin City. In January 2003, I made a phone call to the Changlinzi camp to get information about him. Li Jinhua, team leader of the First Brigade where my father was detained, answered the phone and said, "Your father is no longer here. Because he had heart disease, he was transferred to the hospital in Wanjia Forced Labor Camp." The next day I went to the hospital. My brother had been tortured in this place. Now my father was there. I was very worried about what could happen there.
I went upstairs and saw my father. He looked like a skeleton covered with a thin skin. He was standing behind bars with a vest and pajama bottoms on. The pants were too big and kept falling down. I can't remember what he said. I only remember he said that the criminal inmates didn't allow him to drink any water.
After I left Wanjia Labor Camp, I tried to apply for bail for medical treatment for my father. But several days later, on the evening of January 10, 2003, I received a call from Li Jinhua. He said that my father was in very poor health and told me to visit him the next day, which was Saturday. If the matter was not urgent, the authorities would not sacrifice their weekend to do something like this. In the car, Li Jinhua said, "I can tell you that your father is already dead. You must have him cremated immediately. Don't make any trouble. Accept it quietly."
During his detention, I managed to see my father twice. He didn't say anything about the forced labor camp because he didn't want to upset me. He must have suffered from severe torture, of which I was not aware. But according to what he said to me several days before he died, the criminal inmates didn't let him eat or drink, and it's possible that he died of starvation.
In late 1999 my father went to Tiananmen Square to appeal for Falun Gong. He was illegally detained for 15 days. In July 2000, he went to Tiananmen Square again. He was arrested again and detained for over 50 days. His home was ransacked. He was only 61 when he died.
After my father was killed, Shi Changjing, director of Changlinzi Forced Labor Camp, kept looking for me. In the past five years I have had to move from place to place and have been unable to go home.
Related article:
http://www.clearwisdom.net/emh/articles/2003/2/1/31581.html