Japan: Falun Gong Shines at the NPO Festival in Tokyo (Photo)
October 24, 2008 | By a Falun Dafa practitioner in Japan
(Clearwisdom.net) The Japan Falun Dafa Association participated in the 4th Japan NPO (non-profit organization) Festival that was held on October 18-19 at Yoyoki Park.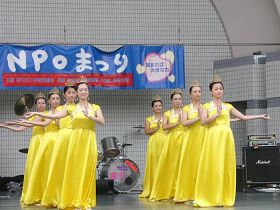 Falun Gong practitioners' dance performance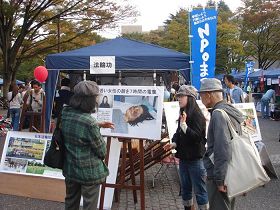 Many passersby read facts about the persecution of Falun Gong

Learning how to make paper lotus flowers
The practitioners' stage performance, the exhibition of the brutal persecution of Falun Gong in China, and the teaching the exercises and making paper lotus flowers were warmly welcomed by passersby. Many people wanted to know more about the persecution of Falun Gong in China, especially after seeing the pictures and reading about it on the displays. One older Japanese man said, "The Chinese Communist Party (CCP) is more terrible than North Korea. It is always going to be a pain if the CCP's dictatorship does not end. I support Falun Gong."
As the practitioners demonstrated the five exercises, many people stood and watched, and several learned the exercises right then. One Japanese man said that he felt very relaxed after doing the exercises.
A practitioner taught a Japanese girl how to fold paper lotus flowers and told her, "Lotus flowers live in mud, but stay clean and elegant. Do you see the three Chinese characters Truthfulness-Compassion-Forbearance on the bookmarks? Truthfulness means telling the truth, compassion means to have a kind heart, forbearance is to tolerate and endure. If you can follow these principles, you will be a good person. Falun Gong practitioners follow these principles and no matter how the environment changes, even when they are persecuted by the CCP, they still follow their beliefs."