Australia: Falun Gong Practitioners Participate in Canberra Flower Show (Photos)
October 17, 2008 | By Yun Yun in Canberra
(Clearwisdom.net) On October 11, 2008, Falun Gong practitioners participated in the annual Flower Show in Australia's capital city, Canberra. Many people enjoyed themselves while appreciating the colorful blooms and at the same time, learned the goodness of Falun Dafa.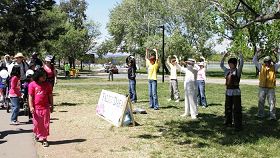 Visitors are attracted by the exercise demonstration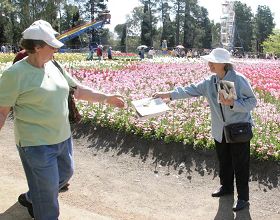 A Falun Gong practitioner hands out truth clarification materials to visitors
Floriade is the largest spring flower show in the Southern Hemisphere. It is held from mid-September to mid-October every year in Canberra, Australia's capital city. This year's festival showcases more than one million beautiful flowers, with a huge mix of stunning blooms including poppies, tulips, daisies, orchids and many more. Tens of thousands of visitors are drawn to appreciate the dazzling array of colors and the brilliant beauty of the plants.
As in previous years, the Falun Gong practitioners' Divine Land Marching Band and waist drum troupe performed. The song, "Falun Dafa Is Good" and other pieces were played on the sidewalk leading to the flower show. Their lineup was orderly, and music was vigorous and majestic, earning the favor of the local people. Waist drummers in golden costumes played the drums joyously, displaying the elegant demeanor of cultivators. The demonstration of the five sets of exercises and free instruction of the exercises were conducted on the opposite sidewalk, which attracted many visitors to join in. A practitioner introduced that Falun Gong is a cultivation way originating from ancient China and that it benefits people both physically and mentally. Falun Gong's principles are Truthfulness-Compassion-Forbearance, and the five sets of exercises are gentle,smooth and easy to learn. Falun Gong has spread to over eighty countries. Many people asked where to find practice sites and said they wanted to learn. Many visitors asked for truth clarification materials from practitioners.
At 2:30 p.m. Falun Gong practitioners were invited to demonstrate Falun Gong exercises and perform dances on the main stage. The girls' beautiful costumes and graceful dance gained praise from the audience, and the peaceful exercise demonstration brought peace to people in a noisy and bustling environment.
The fountain nearby the flower show is an attractive tourist spot, drawing a large number of tourists from around the world every day. Since the Chinese Communist Party (CCP) launched the persecution of Falun Gong in 1999, Falun Gong practitioners have been there clarifying the facts and distributing materials to tourists. Nine years have passed, yet the practitioners still persist in exposing the persecution of Falun Gong, rain or shine. Many tourists from China carefully read the display boards to learn the facts and many westerners have also learned the facts and condemn the CCP's atrocities.