Philadelphia: Chinese New Year Spectacular Continues to Delight Audiences (Photos)
(Clearwisdom.net) On January 5, 2008, the performance of the Divine Performing Arts Chinese New Year Spectacular continued in the Merriam Theater, Philadelphia and brought enjoyment to the audience.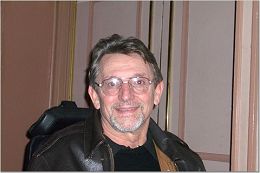 Dr. Greg McGreer, a psychotherapist from Medford, New Jersey
Dr. Greg McGreer, a psychotherapist from Medford, New Jersey, said, "I liked everything, but I was really struck by the colors, so bright and pleasing, and the gracefulness of the movements. I especially liked 'The Fruits of Goodness'. I also liked the translation, the interplay, the variety and I like the quick pace. We went last year and we enjoyed it so much."
Robert Spice, a school teacher, and his wife Pam Spice, a retired school teacher, were glad they attended the show. They learned about the show from the Philadelphia Inquirer. Mr. Spice was most impressed by the vocal performances.
Brad Panter is a young man who just graduated from college with a major in film and production. He came with his mother. He said that someone handed a pamphlet to him when he was in New York. He talked to his mom about this. He was drawn to Chinese culture and wanted to travel and live in Asia for some time. He said, "I think it is just amazing. I think the culture is just incredible."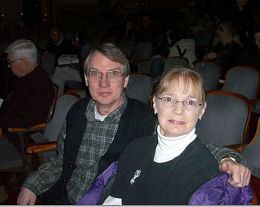 Bob Butten and his wife Jane
Bob Butten and his wife Jane watched the show together. Bob said, "I loved it. It is wonderful. I especially liked the drums." His wife Jane said, "It was beautiful, especially the dance with the long sleeves. It was so graceful."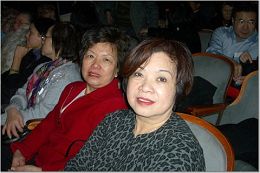 Philadelphia residents Ms. Pan (left) and Ms. Zheng (right)
Philadelphia residents Ms. Pan and Ms. Zheng are Chinese from Vietnam and had lived in America for thirty years. It was the first time they had seen NTDTV's Chinese New Year Spectacular. Ms. Pan, a lay Buddhist, said she watched many shows before, but this one is very unique. She said that she liked it because this show presented traditional culture.


Rose Fosterburg and her husband from Bucks County in Pennsylvania
Rose Fosterburg, from Bucks County in Pennsylvania, said after watching the show, "It was magnificent, one of the best shows I have ever seen".
Her husband added, "It was a great afternoon, really great. Our son treated us. We are so glad we came."