Philadelphia Audience Inspired by the Spectacular's Message of Compassion (Photos)
January 07, 2008 | By Li Jingfei, Minghui Reporter in Philadelphia
(Clearwisdom.net) Two shows of NTDTV Chinese New Year Spectacular were given in Merriam Theater on January 5, 2008. The Philadelphia audience was very impressed with the outstanding arts presentation by the Divine Performing Arts (DPA). People of all circles could feel the strong power of compassion throughout the show.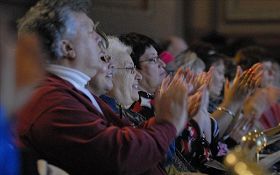 Audience enthusiastically applauds during a performance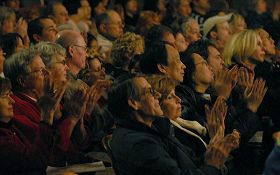 Audience enthusiastically applauds during a performance
Elizabeth, an attorney in Philadelphia, closely watched the show from the front row of Merriam Theater. She occasionally took out her binoculars to have an extra close look at the artists' faces and movements.
Elizabeth said she could feel the strong power of compassion in the performances and that the stories behind the dances showed a fascinating history. She loved the backdrop of the white lotuses on snowy mountains and the beautiful songs. Even though she doesn't know Chinese, she could understand the meaning of the songs from the English translation on the backdrop.
A retired doctor who came from Korea forty-one years ago, Mr. Hyun, said after watching the show, "It was way beyond my expectations. It was gorgeous! The show displays kindness and morality. This is what I understand."
Mr. Jachter, who works in an insurance company, said the show was very colorful, thought-provoking and spread the message of compassion.
Elvina Schwartz was inspired by the lyrics of the songs to think more about the meaning of life. She said, "Why are we here? Why is there pain in life? Why do people suffer?" The lyrics made Elvina reflect on her life and her struggle as an artist.
Elvina has a deep appreciation for traditional Chinese culture. She said she learned so much from the artists. She felt the rich cultural meaning of the five thousand years of history through the "Descent of the Celestial Kings." She could tell that the Chinese people are yearning for their values and culture to be restored, as the traditional culture was destroyed by the Cultural Revolution.
Piano teacher Charleen said she had never seen such a wonderful show. The lyrics were filled with meaning, inspiring people to seek goodness.
Beautician Anna said she loved the songs and that the lyrics were heart-shaking.
Jane Butten, a retired artist, wrote down her feelings as she watched the show. She said the show was a perfect combination of beautiful backdrops and excellent performances. She was also refreshed by the display of the tradition of good will and respect between people. She also commented that the dance showing the persecution of Falun Gong practitioners in jails was very powerful.
Schoolteacher Jackie Jennason and her husband took their daughter, who was adopted from China, to see the show on January 5. Jackie said she would recommend the show to all their friends.