Texas: Eighteen Cities Issue Proclamations Recognizing the NTDTV Chinese New Year Spectacular (Photos)
January 04, 2008 | By Zeng Hong, Minghui reporter in Dallas
(Clearwisdom.net) Great attention has been focused on the upcoming New Tang Dynasty TV's (NTDTV) Chinese New Year Spectacular in Texas. The performances will take place at the Nokia Theater in Grand Prairie from January 7 to 9, 2008. Eighteen cities in the area have issued proclamations to recognize the Chinese New Year Spectacular, to thank NTDTV and the Divine Performing Arts (DPA) for bringing internationally renowned high caliber entertainment to the Dallas/Fort Worth area, and to encourage local residents to enjoy this remarkable cultural feast.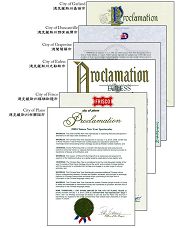 Eighteen mayors in Texas issued proclamations in honor of the Chinese New Year Spectacular.
The artistic elements and performances of the DPA are outstanding. Their Holiday Wonders shows, which have just ended on Broadway, fascinated audience members from both the East and West, who praised it as "highly professional." The PDA is dedicated to providing a unique experience of beauty and compassion through its presentations of traditional Chinese arts and divine culture.
The Mayor of Plano, Pat Evens, was very sorry she wouldn't be able to attend the show. She wanted to express her greetings to the audience and her gratitude to the DPA through NTDTV. She was confident that everyone that attended would enjoy the richness of five thousand years of Chinese culture and wished everyone, "Good luck and great success in the New Year!" Mayor Evans proclaimed January 7, 8, and 9 "Chinese New Year Spectacular Days" and encouraged the citizens of Plano to actively get involved and support the New Year show.
Lib Saleh, the Mayor of Euless, told the NTDTV reporter on the phone that she believes cultural activities are of great value. Her daughter teaches choreography in a university. She had seen the Chinese New Year Spectacular program introduction DVD and praised its high standards. She issued a proclamation to NTDTV and said, "I am looking forward to the show on January 7. My family and I will be there."
The Mayor of Addison, Joe Chow, who is also the first and only Chinese American mayor in the Dallas/Fort Worth area, issued a proclamation to the Chinese New Year Spectacular and wished the Chinese "a Happy New Year" through NTDTV. He expressed his greetings to the audience and said the show portrayed traditional Chinese dances and stories. He thought that the cultural and educational exchange would surmount any differences in cultures.
Ms. Yang, a representative of NTDTV's outreach effort, told the reporter, "We have received proclamations from 18 cities. More proclamations and greetings are on the way. We appreciate support from all circles and the attention and proclamations from all levels of government in the Dallas/Fort Worth area. I believe the DPA performance will be beautiful and unforgettable."
The cities that have issued proclamations to honor the NTDTV Chinese New Year Spectacular are as follows:
Duncanville, Euless, Cedar Hill, Garland, Grapevine, Irving, Burleson, Lewisville, McKinney, Allen, Colony, Arlington, Plano, Addison, Colleyville, Richardson, Frisco, North Richland Hills.