Pennsylvania, USA: Ancient Legends Come to Life in Philadelphia (Photos)
January 04, 2008 | By a practitioner in Philadelphia
(Clearwisdom.net) On January 1, 2008, the 107th Mummers' Parade was held in Philadelphia. Crowds of spectators lined up on both sides of the parade route. The parade lasted for eight hours, and more than 15,000 participated. As the only Chinese procession in the parade, Falun Gong practitioners participated for the fifth time, and received a warm reception from the spectators.
The theme of the Falun Gong practitioners' procession was "Ancient Legends Come to Life." Practitioners wearing costumes of ancient Chinese emperors and empresses were followed by waist drums, dragon dancing, and lion dancing teams. They gave spectators a glimpse of the Chinese traditional culture before NTDTV's Chinese New Year Spectacular, which is due to run in Philadelphia on January 4-6 to celebrate the Chinese New Year.
Spectators described the procession as "original," "exciting," "beautiful," and "dazzling." One Chinese spectator said that the parade was "dear to my heart," and another said that it made him proud to be Chinese.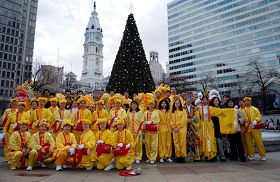 Falun Gong practitioners pose for a group photo and wish Master Li a Happy New Year
The Mummers tradition dates back to 400 B.C. and the Roman Festival of Saturnalias, where Latin laborers marched in masks throughout the day of satire and gift exchange. This included Celtic variations of "trick-or-treat" and Druidic noise-making to drive away demons for the new year.