Chicago Spectacular Organizing Committee Holds Reception to Thank Supporters (Photos)
(Clearwisdom.net) Before the second show of the Chinese New Year Spectacular began at the Arie Crown Theater, Sound of Hope Radio and the Mid-US Falun Dafa Association, the hosting organizations of the Spectacular, held a reception to thank sponsors and supportive officials.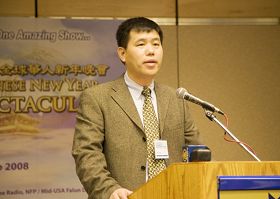 Falun Dafa Mid-US Association Chairperson Dr. Sen Yang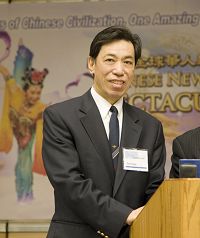 Acclaimed tenor Guan Guimin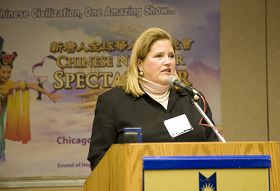 47th District State Representative Patricia R. Bellock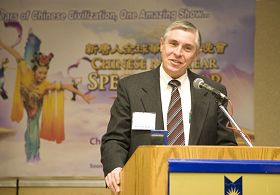 70th District State Representative Robert W. Pritchard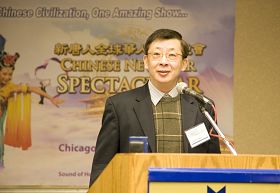 Taipei Economic and Cultural Office in Chicago Deputy Director Pao-hsin Wang
At the reception, Dr. Yi Liu, director of the Sound of Hope Chicago, first thanked all of the honored guests for their support of the Spectacular. She also pointed out a common misunderstanding of Chinese culture: "Since Communism was imported and forced upon China, many of our precious traditions and beliefs have been systematically uprooted. Many people now see Chinese culture as just dragon dances and balancing acts. However, true Chinese culture holds profound inner meaning. It is a culture devoted to the spiritual and moral quest of humanity."
Ms. Liu said that she was stunned by the beauty of Chinese culture when she saw the show for the first time. "In 2004, I attended the inaugural Chinese New Year Spectacular in New York. I was totally captivated by the performances. I got to know more of my own culture from the show. By presenting the Chinese New Year Spectacular, Divine Performing Arts Company is reclaiming the long-lost treasures of China. In 2006, the SOH was honored to bring the Chinese New Year Spectacular to Chicago. This is the third year that they have returned to Chicago, and we'd like to extend out warmest welcome to the Divine Performing Arts Company."
While addressing the guests, Dr. Sen Yang, chairperson of the Falun Dafa Mid-US Association, pointed out what makes the show unique, "If you study traditional Chinese culture, you'll find that our traditional values passed down over thousands of years boil down to these universal principles, truthfulness, kindness, tolerance, which have brought peace and harmony to individuals, families and communities. But it's very sad to see these values fading away over time. Especially in China, during the cultural revolution the traditional values and beliefs were almost destroyed, leaving a spiritual and ethical vacuum. In many respects, "money" became China's national religion. Morality and art go hand in hand. The Divine Performing Arts not only offers beautiful music, elegant dances, and stunning costumes, but also the essence of the Chinese traditional culture. You'll find these performances to be inspiring and spiritually uplifting also."
Regarding the aim of the hosting organizations, Dr. Yang said, "As organizers, we are trying to display the true Chinese culture in front of Western audiences. At the same time, we want Chinese people to learn, to understand and embrace the great Western values: freedom of thought, speech, and belief, and rule of law."
Deputy director of the Divine Performing Arts Touring Group and acclaimed Tenor Guan Guimin gave a brief review of the performing arts company and its background. "This show will also be presented at Radio City Music Hall in New York City, and what you will see is the largest performing arts group formed by overseas Chinese artists," Mr. Guan concluded.
In her congratulatory speech, 47th District State Representative Patricia R. Bellock said that she was expecting the show to bring alive 5000 years of ancient culture. The 47th District has many Chinese immigrants, and Bellock said she was very pleased to have such a rare opportunity to learn about the Chinese culture shared by her constituents.
Mr. Robert W. Pritchard, state representative of the 70th District, said that he drove 60 miles to attend the reception and watch the show. Mr. Pritchard said that he was amazed by Chinese culture and arts when he watched the DVD of the 2006 Spectacular. With this experience, he was determined to see the 2008 show to learn more about the lost Chinese culture, as it is important to everyone. "This wonderful city welcomes this wonderful performance!" the representative said.
It was the second year for Mr. Pao-hsin Wang to attend the show. Mr. Wang, deputy director of the Taipei Economic and Cultural Office in Chicago, said that the Spectacular faithfully showcased Chinese tradition, and efforts by the Divine Performing Arts to preserve and promote traditional culture shadowed Taiwan and China.
In recognizing the Spectacular's contribution to diverse culture and performing arts, the Spectacular Organizing Committee has received two resolutions from the Illinois General Assembly, and greetings from many elected representatives, including Governor Blagojevich and Senator Durbin, along with proclamations from more than ten cities.