Chicago Spectator: "I Rank This Show As No. 1" (Photos)
January 31, 2008 | By Su Qing in Chicago
(Clearwisdom.net) Chicago saw the final performance of the Divine Performing Arts' Chinese New Year Spectacular on January 26, 2008. Satisfied audience members talked about seeing it again next year.
"I rank this show as No. 1"
Connie Woody, a retired Jewel Grocery Store assistant manager
Connie Woody, a retired assistant manager at a major grocery store chain, stood in the lobby after the performance. When the reporter asked if she wanted to share her impressions of the show, she eagerly replied, "Fabulous, really spectacular! I've never seen such a performance."
Because it had snowed, she was initially hesitant to leave home, but she decided to come anyway. "I did not expect that the show would be so wonderful. If it comes to Chicago again, I'll definitely come see it."
Connie indicated that she loved every aspect of the show, including the costumes and dances.
She said, "Comparing it with other shows, I'd rank this one as No.1."
"I will come back next year with my family and friends"
Bernadette Peteet, retired from her job as an Illinois government employee, received a flyer about the New Year Spectacular on the street. She bought tickets and came with her daughter, Belinda Moody. "This is a wonderful show! The choreography, the colors, everything is so beautiful. It's an unforgettable experience," Ms. Peteet said with tears in her eyes.
Bernadette Peteet (left) and her daughter enjoyed the show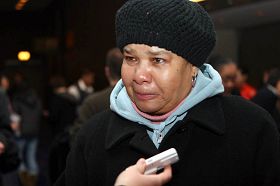 Talking about the performance, Ms. Peteet became very emotional and tears welled up in her eyes
Ms. Peteet said that she and her daughter did not know much about Chinese culture before, but they enjoyed Chinese food. Tonight, they learned a lot. Ms. Peteet said that she was struck by the elements of "Love, family, and respect" represented in so many of the performances.She said she was now interested in going to China and indicated that she would come back to see the show next year with her family and friends.
"It was incredible!"
Susan Lanbert works for the Federal Express Delivery service. She came to see the show with her friend, Tina Szczudlo. Susan said, "I enjoyed it very much. It was incredible. I am going to China soon, so I came to see the show because I wanted to learn more about Chinese culture."
Tina said, "The show was great--I really liked the dances. The 'Mongolian Bowl Dance' was very impressive." Tina was also impressed with the host and hostess. Both women said that the show was much better than they had expected and that the colors and dancers were "brilliant."