Spectacular Far Exceeds Expectations of Chicago Audience Members (Photos)
January 30, 2008 | By Su Qing in Chicago
(Clearwisdom.net) The touring company of Divine Performing Arts presented its last two performances of the Chinese New Year Spectacular in Chicago on January 26, 2008. The audience members were mesmerized, saying that they had never seen such a wonderful performance and that the show was much better than they had imagined.
Jimmy Langguth and his wife, Cassandra, enjoyed the performance very much. They enthusiastically applauded after each act. Cassandra was amazed at just how spectacular and exquisite the performance was. Mr. Langguth shared the same impression.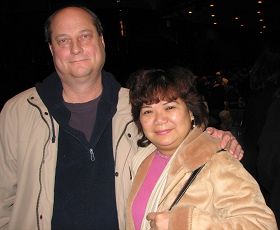 The Langguths said they had never seen such an amazing performance
Cassandra is half Chinese. Regarding Chinese culture she said, "I have forgotten most of it. The show rekindled many memories."
They said that they saw the news about the show in the Chicago Tribune, and they would recommend it to their friends. "Very wonderful," Mr. Langguth said. "I'm not a person who loves seeing performances, but this show, I will definitely attend again."
Huang Hanyong is a martial arts coach and lives in Michigan. His whole family drove about three hours to attend the show despite the snow. Mr. Huang's father is Chinese, and his mother is Vietnamese. When he was a child, his father owned a theater in Asia. It was his first time to see the Chinese New Year Spectacular, and he was very enthusiastic about it. He said, "It's my first time to see this show, and I thought it would have lion and dragon dances." So he was pleasantly surprised to find a much more extensive display of Chinese culture. He said, "The show was wonderful! I liked everything."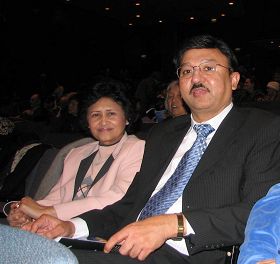 Asharaf Dabawala, MD, and his wife, Madhumati Mehta, saw the news about the show in The India Tribune, and accompanied his mother to the show. Afterward, Dr. Dabawala said he liked the drum dance. His wife said she liked the spirituality the programs conveyed, such the last program in the first half of the show, "The Fruits of Goodness." She felt that it expressed human beings' "Buddha nature" clearly and beautifully. She also said she loved the music, dances, songs, and drums. The performers' facial expressions and their mastery of the dance routines also impressed her.