San Francisco: Understanding the Essence of Chinese Dance through Watching Divine Performing Arts' Performance (Photos)
January 30, 2008 | By Kerry Huang in San Francisco
(Clearwisdom.net) San Francisco has one of the largest communities of Chinese people in the United States. Many Chinese audience members expressed their great appreciation for the Chinese New Year Spectacular shows presented by Divine Performing Arts from January 23 to 26, 2008.
The main part of the show is Chinese classical dance. As introduced by the hosts, there are three major components to Chinese dance: physical yun (bearing), physical forms, and technique. Chinese dance expresses internal thoughts and inner qualities through physical performance. Chinese classical dance has great influence over other art forms. Some highly difficult movements in gymnastics and acrobatics including tumbling, jumps, and turns originated from Chinese classical dance.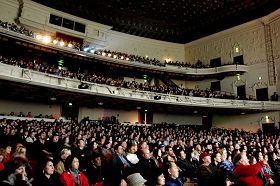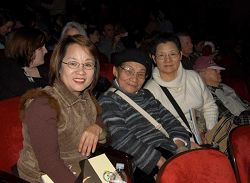 Nancy Luo (Left) and her mother (Middle) and her sister watched the show together.
Nancy Luo said that her daughter is learning folk dance, so she knew something about dance.
She said, "The show displays the essence of Chinese dance. It is fantastic. There are many things that I did not know before. I feel that I have learned new things today."
Nancy Luo also thought the dances were different from those she had seen before. These dances emphasize special movements and gestures only found in ancient Chinese culture.
She commented that the show was very meaningful because the show displayed many things of different cultural layers in China. For example, it illustrates courage and loyalty of Yue Fei and so on.
She added, "The drumming was phenomenal too."
Nancy emigrated to the U.S. from Taiwan over a dozen years ago. She is now helping her sister with her business. She had seen many types of theatrical performances before. She commented, "The show tonight was of high-caliber."