Los Angeles Audience Appreciates the Deep Insight into Chinese Culture Presented by the Spectacular (Photo)
(Clearwisdom.net) Katherine Rickard from Texas was visiting two of her Chinese friends, Lou and Hai, who just moved to LA from Texas. While in Los Angles, she attended the Chinese New Year Spectacular on January 19, 2008.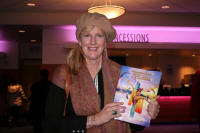 Katherine Rickard from Texas watched the show in LA on January 19, 2008
"My general feeling is that it's just a wonderful, uplifting show full of hope."
Katherine appreciated the variety of performances from the solemn and beautiful to the lively and rhythmic. She said, "I loved 'Snowy Mountain, White Lotus'--that was a beautiful one. I liked the strong, powerful ones too with the drums--very high energy ones." She also felt uplifted by the spiritual nature of the programs. "I loved the vision of the women in prison - when they had a vision of the light that came--it was beautiful."
Katherine said she learned a great deal from the show because it went into a greater depth than anything she'd experienced before related to Chinese culture. She said, "There's so much history, so much beauty and meaning in all of these dances and these cultural traditions. They give you a much greater appreciation and a feeling for it."
Mr. Robert Rooks also attended the Spectacular in Los Angeles. He believes it is important for everyone to understand traditional Chinese culture. He said, "This should be all over the world, and especially all over the United States. The show should definitely go where the kids can see it throughout this country to understand the culture."
Antonio Gilani, an employee of the CBS network, was very glad to see the Chinese New Year Spectacular visit Los Angeles. He appreciated the show's ability to bring peace to viewers and how it can bring healing to the viewer who, "in the face of a technological world including modern warfare, violence, and atom bombs, can for a moment step back in time and enjoy a glimpse into China's magnificent antiquity."