Montreal Audience Praises the Presentation of Authentic Chinese Culture by the Divine Performing Arts (Photos)
January 19, 2008 | By Ye Linghui and Xiao Yan, Minghui Reporters in Montreal
(Clearwisdom.net) The Chinese New Year Spectacular by the Divine Performing Arts in Montreal in January 2008 was highly praised by the audience. Many people said that they enjoyed every program in the show.
Mr. Andre Filiatrault and Mrs. Denise Filiatrault, a retired couple, put their written feedback in the collection box before speaking with reporters.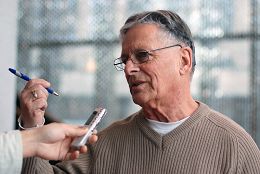 Mr. Andre Filiatrault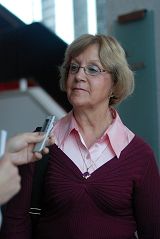 Mrs. Denise Filiatrault
Mrs. Filiatrault said the show was beautiful. She liked all of the programs, singers, dancers, drummers and costumes.
Mr. Filiatrault said that compared to the Beijing opera they saw in China, he liked the music in the Spectacular better because it was classical, graceful and soothing.
Denise loved the musical solos and was happy that the lyrics were projected on the background. Andre added that their understanding of the Chinese culture was based on their one-month-long travel in China. The show allowed them to learn more about Chinese culture, which was very peaceful, graceful and profound. They would like to watch the show again if it comes to Montreal next year.
Mr. Luo, who has lived in Montreal for decades, set aside time from his busy schedule to attend the show. He liked the music, the costumes, and the beautiful backdrops.
Ms. Liu, a new immigrant from China, said, "I have never seen such a great show! I was the most touched by the dance about the persecution of Falun Gong by the CCP. Tears came to my eyes. The scene about how they (Falun Gong practitioners) remained steadfast while facing the persecution was very moving."
Ms. Zhang from China said the performance was a magnificent scene. She said, "I'm glad that non-Chinese could also have the chance to appreciate this wonderful Chinese culture. It is great!"
Mr. Wu, an elderly Taiwanese Canadian, was happy to see Chinese culture spreading overseas. He liked the "Drummers of the Tang Court" most because it depicted the strength and the prosperity of the Tang Dynasty. He hopes that traditional Chinese culture like this will be restored.