Member of the Audience in Montreal: "The show made people think about the purpose of life" (Photos)
January 19, 2008 | By a Minghui reporter
(Clearwisdom.net) Ms. Cheng, a Montreal businesswoman, came to the Chinese New Year Spectacular on January 16 with her Western friends.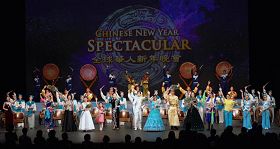 The show in Montreal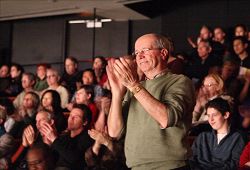 Audience warmly welcomes the show
Ms. Cheng said, "When I saw the dance in which the tortured Falun Gong practitioner went up to heaven, I could not help my tears." She said, "That dance was great. It showed how people help each other... It was very touching."
Ms. Cheng also liked the song that described Falun Gong practitioners' spirits. She said, "The singer was professional, and the lyrics were very touching. It showed how much effort Falun Gong practitioners have made and how much they have suffered to raise awareness. Their lives are very meaningful, and what they have done is very touching."
"The show makes me think of the purpose of life," said Ms. Cheng. "Although I haven't made up my mind to practice Falun Gong, I think Falun Gong practitioners' lives are rich and meaningful."
Ms. Cheng liked the dances about Falun Gong. To her, they were touching and shocking. She felt sorry that she didn't bring her son to the show. She said that she would bring her whole family to show next year and recommend it to her friends."
She said, "The Chinese Communist Party is a tyrannical power. It ruined traditional beliefs in Buddhas and Taos. Our generation lost the traditions, but the Chinese New Year Spectacular restores the traditional culture for us. In traditional culture, Chinese people had belief in gods, but the communist party ruined it and cut out the root of Chinese culture."
Ms. Cheng said, "The show promotes Chinese culture and helps Westerners learn about it. The show let the Westerners know that Chinese people are not busy making money all the time--we also have spiritual lives. The Chinese Communist Party has no right to suppress our spiritual lives. As an overseas Chinese, I am very happy to see such a show."
Ms. Cheng's Western friends appreciated the chance to see the show. They enjoyed the afternoon.