Boston Insurance Brokers: "Two Thumbs Up!" (Photos)
(Clearwisdom.net) From January 10 to 12, the Divine Performing Arts Company presented four shows of the Chinese New Year Spectacular with great success.
Insurance broker Carrie Spencer and her two colleagues talked about their experience seeing the show excitedly.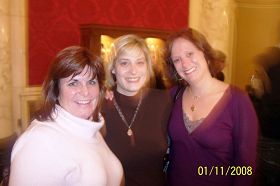 Insurance broker Carrie Spencer and her two colleagues
"I thought it was very good, a lot of talent. I liked the drums. I loved the costumes. The best show I have ever seen. Beautiful. I loved it."
"The dancing was amazing. They just seemed to fly around. They were floating on air. I can imagine that they trained a long time.
"I just think it was upbeat and enjoyable. Fun. We loved it. We can't wait to come back. Two thumbs up!"
Students of St. John's High School came to the show with their Chinese language teacher
Ann Shi is a Chinese language teacher at St. John's High School in Shrewsbury, MA. She brought 40 students to see the show. Below are some comments from the students:
"Hen Hao! [Chinese] Very Good! It was an amazing experience."
Another student said, "I liked the first drum one. It was just amazing, definitely recommended."
"This was a unique experience. I loved the music and the costumes."
"Thank you, I really enjoyed it. I was a great experience."
"I just want to thank my teacher, Shi Laoshi; She is a wonderful teacher. I am very thankful to have had this experience. I definitely will come back next year."
Ms. Shi's colleague, Jean DePass Um, also came to the show. She said, "Many of our students are here. I think they had a wonderful experience."