The Mayor of Lakewood, Colorado: "I Am Amazed by Their Perseverance" (Photos)
January 15, 2008 | By a Minghui reporter
(Clearwisdom.net) The Divine Performing Arts company put on three shows of the NTDTV Chinese New Year Spectacular in Denver, Colorado, January 11 and 12. Bob Murphy, Mayor of Lakewood, came to the show on the 12th with his wife and Ed Peterson, the mayor pro tem.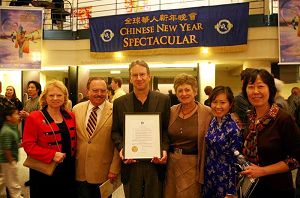 Bob Murphy, Mayor of Lakewood (holding proclamation), Ed Peterson (second from left) and local Falun Gong practitioners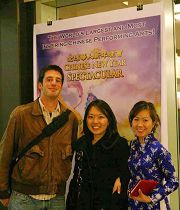 Alice Kim (center) and Brad Kloewer (left) are students at the University of Colorado and members of Amnesty International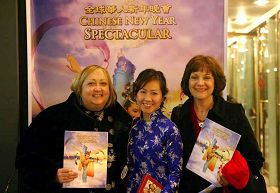 Teachers from a public school in Denver and a practitioner (middle)
Bob Murphy, Mayor of Lakewood, said he was amazed by Falun Gong practitioners' perseverance. He also liked the colorful costumes.
Mr. Murphy said he enjoyed the fairy lady dance and the Mongolian dances. He said, "I liked the story of the teenagers in the Buddhist temple."
Mr. Murphy and his wife were happy to have this chance to see the show.
Ed Peterson, the mayor pro tem, felt that the show was encouraging, with profound content. He was happy to learn about Chinese culture through the show.
Alise Boxer, a public school teacher in Denver, said she liked the rich culture demonstrated by the show. She said that she learned new things about the culture and history of China.
Ms. Boxer liked the Manchu dance and was amazed by the beautiful background designs and colorful costumes.
She also said that she gained hints to teach her students about Chinese New Year from the show, and said she would share what she learned from the show with her students.