Chinese Audience Member in Ottawa: "I See the Power of Forbearance" (Photos)
January 15, 2008 | By Minghui reporter Yingzi
(Clearwisdom.net) Many Chinese people in Ottawa watched the first show of NTDTV's Chinese New Year Spectacular on January 13. Many of them praised the performance and expressed pride in the Chinese culture.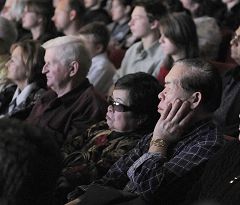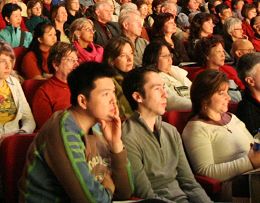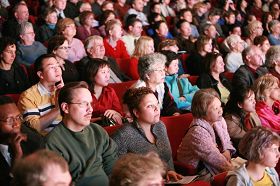 Mr. Hao told a reporter, "The Mongolian dances are very powerful and the drum dances are very inspiring." He continued, "Often the spirit of forbearance gives people the feeling of being 'soft,' but I saw the power of forbearance from those dances."
"Being compassionate is powerful too. The dances brought people the feelings of power and strength, and also peace. My friends also liked those dances," Mr. Hao said.
Mr. Shi Xingjia, the owner of a jewelry store, said, "I've never seen such a good show. Even Chinese people don't have very many chances to see such good Chinese performances." He enjoyed the Manchu dance in particular. "The show offered people spiritual guidance and led them towards what is divine." he said.
"But I am sad to see that such persecution exists in China. I hope the persecution would stop soon," he said, "If every Chinese is against persecution, those responsible will be afraid."
Ren Qiangshen, the owner of a Chinese restaurant, said, "I was moved by every performance. I liked the drum dance very much. I cried when I saw Falun Gong practitioners being persecuted. In Canada, we have freedom and dignity, but our Chinese fellows in China don't have basic human rights. We, overseas Chinese, should help and fight for them. I hope that every Chinese will come to learn the truth."