Atlantic City Holiday Wonders Audience: "We Are Honored to See the Show" (Photos)
(Clearwisdom.net) On December 29, the Divine Performing Arts Company presented the Holiday Wonders show at Caesars Atlantic City Casino theater. Audience members from various places and ethnicities all agreed that Holiday Wonders delivered great entertainment and a beautiful message.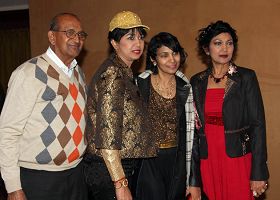 MHC TV network host Nilma Mehra (right) said that the show was excellent, with a clear message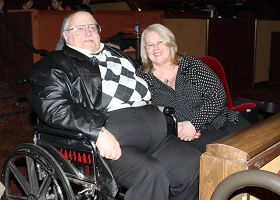 New Jersey attorney Vincent Deandrea (left) said the show was very interesting. He found it calm and reassuring, and said that the dances were very touching and meaningful.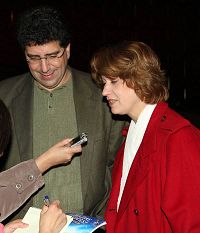 Engineer Tatiana Rad said that she found the dances very powerful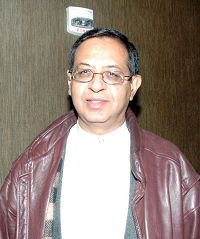 Rajesh Mehra is a practicing physician at a private hospital. His wife is an anchor at a local television station
Anna Csorjo, who has had formal opera training in Hungary, said that she understood the connotations of the show and thought that preserving Chinese traditions in this way was a good thing to do.
Ms. Csorjo said that the show successfully portrayed the struggle between good and evil, and she was very glad to see this good message from Chinese people. "The show was very beautiful. It was a gift to me in that it brought me to a higher realm." In addition, she said that the music was very good and the choreography was excellent.
When she heard that the Divine Performing Arts would present the Chinese New Year Splendor at Radio City Music Hall in New York City, Csorjo said that she hoped she could see it. Since she goes back to Hungary every three months, she said that she would adjust her schedule so she could see the show in New York.
Tatiana Rad is a Pittsburgh engineer who originally came from the Ukraine. She came to see the show with her boyfriend, Mario Dibello. Ms. Rad said, "I came from the Ukraine, and I know the tyranny of the Communist Party very well. I am very sad about the persecution of Falun Gong."
Ms. Rad called the show "fantastic." She said that every act was outstanding, and it was very hard to pick a favorite. She said, "The show has high spiritual content. The costumes, music and choreography are excellent. Every dance movement conveyed such good energy."
Joseph Gonsalvez and Virginia Pugh came from Florida. Gonsalvez said, "We are honored to see the show. The two tenors were outstanding, the costumes were wonderful, and the Erhu performance was very touching."
He said that he was very interested in Chinese culture and has visited China. However, he had never before seen such a fantastic performance. "The backdrop designs were beautiful, and the acts which portrayed lofty realms were very easy to comprehend," he said.
Rajesh Mehra, a doctor at a private hospital, is originally from India. His wife is an anchor at a local television station. Mehra said, "This was a wonderful show. Everything was very good! The acts portrayed outstanding Chinese traditional culture. Traditional Chinese and Indian cultures share many values, including belief in Buddha. Many postures and hand gestures in the dances are close to Indian performing arts, and some of the music also sounded very familiar. This touched me deeply. I have seen some shows presented by Chinese performing art groups, however, the Divine Performing Arts is different from all of them."
Many of the audience members said that the show was very beautiful and they would like to see the Chinese New Year Splendor at Radio City Music Hall in New York this coming February.