Rally in Chicago Supports 30 Million Withdrawals from the CCP and Affiliated Organizations (Photos)
(Clearwisdom.net) On December 29, a rally and a parade were held in Chicago's Chinatown to support 30 million withdrawals from the Chinese Communist Party (CCP) and its affiliated organizations. Though it was very cold in the windy city, the rally drew the attention of many passersby, including several people who quit the CCP during the rally.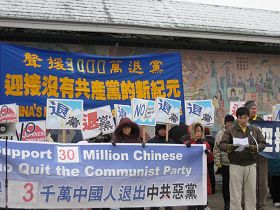 Speech at the rally
At the rally, a representative of the Quitting the CCP Service Center read a statement from the Epoch Times and gave a brief review of the recent progress of the Quitting the CCP movement, which was inspired by the publication of the Nine Commentaries on the Communist Party. The spokesperson urged more Chinese people to quit the CCP and its affiliated organizations. After the rally, participants marched in Chinatown.
Fatima passed by the rally site and asked what this event was about. A volunteer gave her a copy of the event flier and materials about the organ harvesting atrocities happening in China. Fatima was shocked by these atrocities and commended the Chinese people's courage to quit the CCP.
A middle-aged man passed by the site. He accepted a copy of the event flier and told a volunteer that he was Chinese-Vietnamese. He gave a thumbs-up to express his support.
Ms. Sun is from Macao, and she was very glad to see the rally. "I hate the CCP -- it killed a lot innocent people and is so corrupt. It has done nothing good to our Chinese people, and I never joined the Youth League or the CCP. However, I was forced to join the Young Pioneers. Please help me to quit." She said, "I will let me friend in China know, and I am sure she will quit the CCP, as well."
Mr. Lin passed by the rally site and when asked whether he had quit the CCP, he said that he never joined it. However, he was a member of the Young Pioneers, and asked one of the volunteers to help him withdraw from the CCP organization.
One of the rally participants said, "I am really touched after seeing so many Chinese people quitting the CCP and so many people in Chinatown supporting it. The CCP is so corrupt, and it will collapse soon. As more and more people denounce it, it will not maintain its control for long."