Germany: Falun Gong Information Day Held to Raise Awareness of the 8-Year Persecution (Photos)
(Clearwisdom.net) On July 21 2007, Falun Gong practitioners held an Information Day event in downtown Frankfurt to raise public awareness of the 8-year persecution in mainland China. The practitioners told many local residents about the persecution and called on all kindhearted people to take action to help end the atrocities.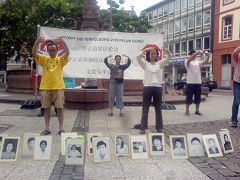 Peaceful exercise demonstration (Photos depict Chinese Falun Gong practitioners who have died during the persecution .)
People are really interested in Falun Gong.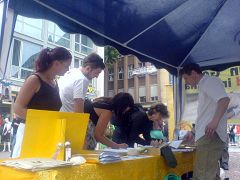 Many passersby sign a petition to show their support for Falun Gong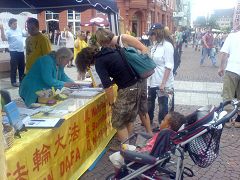 Many passersby sign a petition to show their support for Falun Gong
About 9:30 a.m., when the practitioners were still setting up an information table, a passerby asked: "You guys came to the Frankfurt Cultural Festival one month ago, right?" This gentleman even remembered the name of the practitioners' marching band and said that he knew the persecution very well.
Before noon, a tourist group from mainland China passed by. The tour guide said to practitioners in a friendly way: "I know all about Falun Gong." Pointing to the "Nine commentaries of Communist Party" booklets, he said: "I have already read it. After shopping, I will bring them (the tourists) back and let them pick up these materials."
On one occasion, dozens of Chinese middle school students who came to Germany on a summer vacation tour passed by. In the beginning, they were very hesitant and afraid. One boy told a practitioner: "In school (in China), 'Falun Gong' is a very sensitive topic." However, after seeing the Falun Gong practitioners' sincere and compassionate attitudes, they started to ask questions. Gradually, the students changed. When they learned about the Chinese Communist Party's atrocities of harvesting organs from living Falun Gong practitioners, these children were shocked and in succession expressed their wish to read the Nine Commentaries and Dissolving the Communist Party's Culture.
In the afternoon, there were a lot more people out. Some stopped to talk to the practitioners, while others took pictures and videos of the peaceful exercise demonstration. When people learned that the framed photos displayed represented Chinese practitioners who had died while being persecuted, many of them looked at the photos quietly. After learning about the truth of the persecution, a lot of people asked to sign the practitioners' petition form to express their support. In addition, many passers-by received truth-clarifying leaflets.
While a practitioner was telling them the facts of the brutal persecution, another person in the group asked: "With all these atrocities taking place, are they still planning to hold the Olympics? I am not against the Chinese people holding the Olympic Games. However, the CCP must not hold the Olympic Games and at the same time be violating human rights! Isn't this the same as what Hitler did in 1936? Can I sign your petition to show my support?"