Taiwan: Teaching Children Falun Dafa in School (Photo)
July 31, 2006 | By Hu Jingni, a Taiwanese Falun Gong practitioner
(Clearwisdom.net) I usually have a party at the end of each semester to reward my students' hard work. Since the children at this grade level have little stage experience, I direct them in simple shows. At first, the children are a little shy and just sing with very little physical movement. The resulting performance is not that great. So once I asked if there was someone who would like to do the Falun Gong exercises. I was quite surprised that nearly ten out of the sixteen children raised their hands and shouted, "I will!" And this is how it happened that Falun Gong exercises have become the grand finale of our party.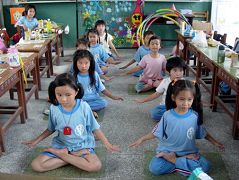 Grand finale of the party – Falun Gong exercise performance
I recall that at the end of last year, the director privately told me that there was an opportunity to teach Grade One. I was not very happy about this. This was a grade I had not taught before and would lose face if there was something out of my control. "This is a wrong thought. It is very selfish!" I suddenly enlightened to Teacher's Fa of "being selfless" and "considering others first". I thought about this and told myself I would accept any arrangement.
In August, not surprisingly, the principal said I would teach Grade One. "Sure!" I was surprised that I answered so naturally.
At the beginning of the semester, to my surprise, the children in First Grade were very well-behaved. No one tried to make noise. At the end of the first day, nobody reported anything wrong. They did everything by themselves. I felt relaxed in a way I never felt before. After that, I decided to lead predestined children to Dafa. During teacher-parent conferences, I shared my experience with Falun Gong, and explained to parents that I emphasize "character education" and use the Falun Gong exercises and a journal to record compassionate thoughts as my two major teaching strategies.
"Teacher, are we having half-day or whole-day class for today?" a student asked me one day. "Whole-day," I answered, "Hooray! We can do exercises at noon!" The children cannot keep from jumping up and down.
For students in Grade One, only Monday and Thursday are whole-day classes. In the beginning, I told the children to lie on the floor for ten minutes, and I would play Dafa exercise music. The children who wanted to exercise would stand up one by one. Later, when the bell rang at noon for snack time, the most diligent boy would run to play the exercise music, while the other children were already sitting on their desks with their legs crossed for the sitting meditation.
At the end of the semester, a questionnaire I distributed asked: "Do you like Falun Gong exercises? If yes, why?" Here are some of the responses:
"Yes, because it help me to get rid of bad habits."
"Yes, I like it. It is so interesting."
"Certainly, because I become much nicer."
"Yes, because one will become a good person through practice."
"Yes. Falun Gong exercises can drive away bad spirits."
I am so happy to see that so many predestined children are finding Dafa.