New York: Practitioners Bring the Beauty of Falun Dafa to Hispanic Community in Brooklyn (Photos)
June 08, 2006 | By Minghui/Clearwisdom reporter Cai Ju
(Clearwisdom.net) At noon on June 3, 2006, Falun Gong practitioners' waist drum team displayed their elegant demeanor again in the "Flag" Parade in the Hispanic community in Brooklyn, and were warmly welcomed by the local residents.
| | |
| --- | --- |
| Show the beauty of Falun Dafa to local people | Young practitioners in the parade |
The purpose of the parade is to display that the US, a country that is composed of immigrants, respects democracy and freedom of belief, and that each ethnicity in the country is able to get along with others peacefully with mutual respect.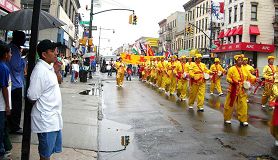 Practitioners' waist drum team adds the jubilant atmosphere to the parade
The waist drum team added vigor and vitality to the parade, and also won the attention of the community. People in the street stopped to watch, and some took pictures with their cell phones. Over 600 truth clarification materials in Spanish were given out to people, bringing Falun Dafa's message to the community.
Those senior Chinese people from the Brooklyn Chinese Association in the parade heard the song "Falun Dafa is Good" along the route. The song was echoed all around Fifth Avenue. Some Chinese watched the waist drum team with pleasant looks of surprise. One Chinese lady asked a practitioner, "What is going on here?" A practitioner told them, "These are Falun Gong practitioners taking part in a community parade. Please keep in mind 'Falun Dafa is Good'." The lady turned to her friends and said, "I have told you, it is Falun Gong."
One practitioner said that even though the weather was not pleasant, everyone went out of their way to rush over to the community for the parade. Most of them had to take a two hour subway ride, some even three hours. They had only one hope, that they could bring the beauty of Falun Dafa to the people here.