Follow-Up Report on the CIPFG's Application to Go to China for Investigation (Photo)
April 29, 2006 | By Huang Kaili, Minghui Reporter in San Francisco
(Clearwisdom.net) At around 2 p.m. on April 27, 2006, Ms. Zhang Fen, investigator of the Coalition to Investigate the Persecution of Falun Gong in China (CIPFG) and reporter of NTDTV in San Francisco, went to the Chinese Consulate in San Francisco to inquire about her visa application to go to China to investigate the persecution of Falun Gong.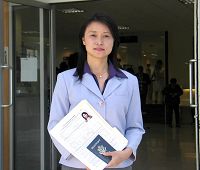 CIPFG investigator Zhang Fen receives no verdict from her meeting with the visa official on April 27
CIPFG investigators and reporters of NTDTV Zhang Fen and Xu Zhen met with the Chinese visa official on the afternoon of April 25, the seventh anniversary of the April 25 Appeal. The visa official said that he had known about their request to go to China for investigation. However, he didn't have the authority to make a decision on their visa applications. He would have to ask his higher-ups in China before he could reply. He refused to give his name. He only told Ms. Zhang to call for follow-up and said that employees of the consulate would know about her application.
Zhang called the Chinese Consulate many times on the afternoon of April 26, but nobody answered.
On the afternoon of April 27, Zhang went to the visa department of the Chinese Consulate in person. She was asked the same question again, "Do you have an invitation from China?" She answered that her application was in response to an open invitation by Qin Gang, spokesperson for the CCP's Foreign Affairs Department, to investigate the concentration camp where Falun Gong practitioners' organs were harvested.
The visa official who refused to tell her his name met with Zhang alone. He said that he had reported everything, including the content of her request to investigate the persecution of Falun Gong, to China. When Zhang asked if she could be given a definite timeframe because of the urgent situation, the visa official said he couldn't answer this question. He said he had done everything he could at his level.
Zhang indicated that she hoped to go to China as soon as possible to conduct an independent investigation on the live harvesting of Falun Gong practitioners' organs charged by several witnesses and to stop such an inhuman atrocity. She called for all Chinese people of conscience to do whatever they could to provide assistance and cooperation.
The CIPFG was initiated by the Falun Dafa Association and Minghui website, and have started taking action. Investigators of the CIPFG not only include Falun Gong practitioners, but also organizations, media and individuals who are concerned with the persecution. Renowned attorneys Gao Zhisheng and Yang Zaixin and Professor Jiao Guobiao are among them.