Chicago: Practitioners Gather at Chinese Consulate, Protest CCP Death Camp (Photos)
March 17, 2006 | By a Dafa practitioner in Chicago
(Clearwisdom.net) At noon on March 15, 2006, Falun Gong practitioners in Chicago held a press conference in front of the Chinese Consulate to expose the CCP's evil deeds in establishing a secret concentration camp for killing practitioners, harvesting human organs for profit, and cremating their remains to destroy the evidence.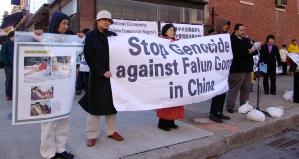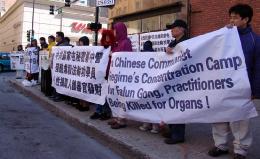 Practitioners protest in front of Chinese Consulate
| | |
| --- | --- |
| A practitioner gives speech | Ms. Tianxiao Zhang participates in the press conference with her little child |
Practitioners gathered in front of the consulate. Some of them drove over an hour from suburban areas to join the protest. The weather changed from warm to cold suddenly. At noon, the temperature was about 25oF though it was sunny. The practitioners did not fear the cold weather but held a banner reading "In Chinese Communist Party's Concentration Camp for Falun Gong, Practitioners are being Killed for Their Organs" in English and Chinese to protest.
At the press conference, a practitioner read the news in English and Chinese that a CCP insider disclosed that the Chinese Communist regime built a secret concentration camp at Sujiatun in Shenyang City, where at least 6,000 Falun Gong practitioners are locked up. Their internal organs are harvested and sold for profit, and their murdered bodies are cremated to destroy the evidence. Currently, practitioners jailed in the Masanjia Labor Camp and Dabei Prison are being transferred to Sujiatun. Practitioners from the three Northeastern provinces and other regions are being transferred there too.
A practitioner representative spoke loudly to the consulate across the street, "We hope that consulate officials will tell right and wrong with your conscience. If you like, we can talk at any time and at any location."
Practitioner Ms. Tianxiao Zhang participated in the conference with her little child and talked about the CCP's persecution of her sister, Zhang Yunhe and Yunhe's husband, Chu Songtao. Yunhe was arrested and no one has known of her whereabouts for more than four years. Songtao was tortured to death. Ms. Zhang called on people to recognize the CCP's evil nature and stand up to help stop the crimes.
Mr. Xu, who drove for more than an hour to the consulate said, "I cannot calm down for long because of the miserable persecution occurring in China. Last weekend, when we held a protest over the CCP's Sujiatun atrocities, many passers-by who knew the facts expressed their willingness to join us against the CCP's barbarity. Facing the consulate, I'd like to tell the officials and staff to quit the CCP and be free."
At the end, the practitioners shouted to the consulate together, "Falun Dafa is great!" "Stop the persecution of Falun Gong", "Bring Jiang Zemin, Luo Gan, Zhou Yongkang and Liu Jing to Justice!" Their strong voices showed the practitioners' determination to bring the culprits to justice.