Kaohsiung, Taiwan: People from All Walks of Life Strongly Condemn the CCP's Atrocities (Photos)
March 17, 2006 | By Sun Dewen
(Clearwisdom.net) At 2:00 p.m. on March 12, 2006, people with a sense of justice held a press conference at the Front Gate of Wufu Middle School in Kaohsiung City, Taiwan, condemning the CCP for building a secret concentration camp in Sujiatun where Falun Gong practitioners have been locked up, tortured and killed and their organs sold for profit. People from all walks of life strongly condemned the CCP's Nazi-style terrorist atrocities.
| | |
| --- | --- |
| Spokesperson for Taiwan Falun Dafa Association South District Zheng Qimei accepts an interview from large media outlets | Professor Chen Zhengzong from Kaohsiung Medical Institute condemns CCP's terrorist atrocities |
The Taiwan Falun Dafa Association informed the media that the CCP has set up a Nazi-style secret concentration camp in Sujiatun, Shenyang City where more than 6,000 Falun Gong practitioners have been locked up. The secret prison has a crematorium and a large number of doctors on site. It is reported that no detainees have ever come out alive. Practitioners' internal organs are harvested for profit and their murdered bodies cremated to destroy the evidence.
There were many display boards with the words, "SOS, urgent rescue for persecuted Falun Gong practitioners," and huge banners bearing words condemning the CCP's heinous crimes. Many people stopped to watch and felt indignant.
| | |
| --- | --- |
| Spokesperson for the South District Group Doctor Su Suhuan makes a speech to express support for the righteous and condemn the CCP's atrocities | Nun also hangs a sign: SOS urgent rescue of persecuted Falun Gong practitioners and calling for people to stop the CCP's murderous atrocities |
Doctor Su Suhuan, spokesperson for the South District Group, repeatedly emphasized in her speech that it was difficult to imagine that such atrocities have been committed by a "government." Only an immoral dictatorship could employ such insidious and debased means to persecute a group of people like Falun Gong practitioners who have lofty morals.
| | |
| --- | --- |
| Display boards bearing messages of urgent rescue touch people's hearts | The media interview pediatrician Nie Shuwen |
Pediatrician Nie Shuwen from a famous hospital in a city in China condemned the CCP's inhuman atrocities, which she felt even more outrageous and debased than any of the persecution she had experienced in China's political movements. The CCP seized power through lies, deceptions and massacre. But she had never heard of such an atrocity as selling organs of murdered victims for profit before cremation. This showed the CCP's last-ditch struggle before its disintegration.
Mr. Zhang Fuzhang, representative of the South District of Grand Alliance for Breaking Away from the CCP, said that from the CCP's recent fanatic atrocities disclosed from Sheyang City's "Sujiatun", the CCP has come close to its end and could collapse at any time. He solemnly called upon the world's people of conscience to step forward together to stop the CCP's barbarous actions.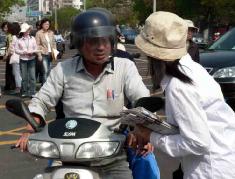 People stop to take materials exposing the CCP
Everyone attending the press conference had a heavy heart upon seeing the CCP's brutality. Many people tied a blue ribbon on their arms as a symbol of freedom, human rights and hope. They hoped all Falun Gong practitioners locked up in "Sujiatun" would be soon rescued, and that the wicked CCP would soon disintegrate.