Canada: Toronto Divine Land Marching Band Participates in Niagara Wine Festival Parade (Photos)
(Clearwisdom.net) On September 30, the 55th Niagara Grape & Wine Festival held a grand parade in St. Catharines, Ontario. The Toronto Divine Land Marching Band participated in the parade for the first time and their performance was well-received.
Spectators were delighted to see the Divine Land Marching Band. Some clapped their hands along with the rhythm, some cheered: "Welcome, Toronto Marching Band!" There were also westerners who greeted the Band in Chinese: "Nihao [hello]!" A spectator told this reporter: "This is the first time for Chinese people to be in the parade in so many years. They did very well."
Kent Wire, spokesperson for the Festival, told the reporter that the parade included 95 groups, including several marching bands and many floats. He said: "This is the first time the Toronto Falun Gong Marching Band has participated in the parade. They have a very good reputation." The parade lasted about 1.5 hours and about 250,000 spectators lined up along the parade route.
"My Whole Family Came from Toronto to Support Our Falun Gong Friends"
The reporter saw a mother with two boys who walked along with the Divine Land Marching Band, distributing Falun Gong truth-clarifying materials. The mother said: "We are Korean and are not Falun Gong practitioners. However, my son's classmate Ben is a Falun Gong practitioner. He is a very good boy, and my whole family come from Toronto to support him and his band."
Here son David added, "When we were distributing Falun Gong materials, many people asked us where this Falun Gong Band comes from. I told them: 'They come from Toronto and China; however, this group is being persecuted in China. You will know all about it from the flier.' So many people wanted the fliers, and all the materials I carried were distributed and they were not enough."
"I Was a Bit Exhausted, but I Performed 'till the End"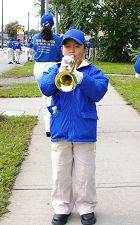 A little trumpeter
Jeffrey is the youngest trumpeter in the band, and it was the first time the nine-year-old boy played with the band in a parade. After the parade, I asked him whether or not he felt tired. He said: "When we had marched about three-fourths of the parade, I started to feel exhausted. I kept telling myself to continue. I did." He added: "Two months ago, I saw mom playing the trumpet and I was very interested. I then asked Mom to teach me. One month later, I was able to practice on my own. Now, I can play four different pieces of music."
Jeffrey's mom was carrying a piccolo trumpet. I asked her: "Why do you play such a small one?" She said: "I bought this for Jeffrey because he always wanted to play mine when I was practicing. However, he still has my trumpet and thus I have to play this piccolo."
She added: "He learned very quickly. Two month ago, he wanted to play for the first time when I was playing 'Falun Dafa is Good.' He tried, and everything was easy for him. He now learns faster than me and often shares experiences with me and sometime even instructs me how to play better."
"The Whole World Knows Falun Gong is Good"
Practitioner Mr. Ding, 77, walked with the procession and distributed Falun Gong fliers to the spectators. He told me: "It was really a sea of people. So many people asked for materials, and my hands are a bit sore now. I distributed more materials than I did in a whole year at the Chinese Consulate and on the street"
Mr. Ding also told me about the following episode that took place when he was distributing fliers along with several other fellow practitioners. They met a group of Chinese international students in red clothing. None of them accepted fliers from the practitioners. One even approached Mr. Ding and started to swear at him. Mr. Ding then asked the other practitioners to send righteous thoughts. After a little while, another student from the same group came along and said to Mr. Ding: "I know Falun Gong, they are the best." Mr. Ding then started to chat with him. The student who was swearing at him later also joined them. He said: "Falun Gong is good, however, I don't quite understand you guys." Mr. Ding said, "The whole world knows Falun Gong is good, and only the Chinese Communist Party (CCP) says the opposite. Since you are now abroad, don't be misled by its lies." In the end, Mr. Ding told the student who knew the truth: "Life is precious, please tell your friends the truth. The CCP has done too many evil things and it is about to be destroyed. Don't follow it to its doom." The student replied: "Yes, I will. I will tell them about this."
Drummer Hu Ying told me, "During the parade, I saw several Chinese international students who were staring at our band and appeared to be stunned. I waved toward them. It took a long time for them to respond—then they smiled."
The Niagara Grape & Wine Festival is a non-profit organization. It organizes a series of seasonal celebrations in the Niagara area. Besides the Niagara Wine Festival, they also organize the Niagara New Vintage Festival and Niagara Icewine Festival. The Niagara Grape & Wine Festival has been named by the A.B.A five times in a row as one of the top 100 events in North America. In 1999, 2000 and 2002, it was recognized by Attractions Canada with the Ontario Annual Cultural Activity Award.