Victoria, B.C., Canada: Promoting Falun Dafa at the Moss Paint-in Festival (Photos)
(Clearwisdom.net) The annual Moss Paint-in Festival was held on Moss Street in Victoria on July 16. This is the 18th anniversary of this event, one of the largest summer activities in Victoria, historic capital of the province of British Columbia. Artworks by 100 artists were displayed in ten regions along the street, attracting tens of thousands visitors. This event certainly offers an excellent opportunity for Falun Gong practitioners to reach the public. Similar to previous years, practitioners rented a booth, which had a banner and posters displayed. The posters contained information about how Falun Dafa has spread around the world, and the truth of the ongoing brutal persecution in China. Practitioners also made Chinese and English truth-clarification materials available to visitors.
| | |
| --- | --- |
| Distributing fliers | Exercise demonstration |
Many passersby stopped at the booth to view the posters. After reading the posters, some talked with practitioners for more information. There were also people who showed interest in the Falun Gong exercises upon seeing the practitioners' demonstration. Some even asked practitioners to teach them the exercises right there at the site. There were also many people who said that they knew about the persecution already and that they supported practitioners. Before leaving the booth, many visitors said, "Good Luck!"
The kind-hearted Canadians were shocked by the brutality of the Chinese Communist Party (CCP). Two middle-school students were shocked by the persecution and said, "We can't believe such brutal things are still happening."
People came to learn about the truth of Falun Dafa and the persecution
One visitor, a western woman, is a teacher. She said that she assigned the Nine Commentaries on the Communist Party as homework to her students so that they could understand the evil nature of the CCP. She also talked about human rights issues in China, including the persecution of Falun Gong. A practitioner talked with her in more detail and gave her as many different materials as she needed.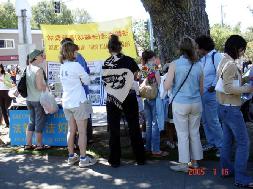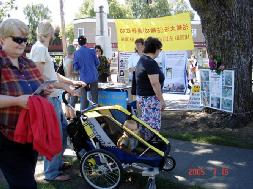 People learning about Falun Dafa and the persecution
At one point during the event, two Chinese students stopped at the booth to look at the posters. A practitioner told them more about the truth of the persecution. The two were both listening attentively. One of them said that she often received truth-clarifying emails when she was in China.
Besides clarifying the truth at the booth site, some practitioners went to the art museum, located on Moss Street, to distribute fliers.