Tennessee: Celebrating World Falun Dafa Day in Nashville (Photos)
May 19, 2005 | By practitioners in Tennessee
(Clearwisdom.net) For the 2005 World Falun Dafa Day, the Mayor of Nashville, Tennessee, Bill Purcell, signed a proclamation praising Falun Dafa's active influence in Nashville.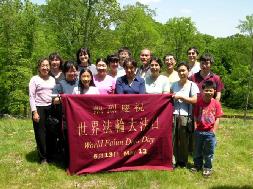 Practitioners from Alabama and Tennessee celebrate World Falun Dafa Day
In order to celebrate this great festival, Falun Gong practitioners from Tennessee and Alabama gathered in Nashville to celebrate World Falun Dafa Day. They also conducted a two-day group Fa-study, held activities to introduce Falun Dafa and "clarified the facts" about Falun Dafa.
On May 14, practitioners gave a talk on Falun Dafa at the public library in Nashville and at the same time celebrated Falun Dafa Day. About 20 Western and Chinese people attended. Practitioners first played a 19-minute video to introduce Falun Dafa and its popularity around the world. After that, the audience was given enough time to raise questions and practitioners answered the questions. After the question and answer session, practitioners played a video teaching the five sets of exercises. Practitioners taught the audience members how to practice the five exercises one after another.
New practitioners learn to practice Falun Gong
Most audience members expressed that while practicing the exercises, they felt very peaceful and serene. Some people felt relief from some of their symptoms of illness. For example, an older woman in her 70s said to her husband after practicing the second set of exercise that her left arm, which had gone through surgery could raise up higher.
The same night, practitioners went downtown to introduce Falun Dafa and distribute truth-clarifying materials. It happened that there were two concerts being held downtown. Practitioners then distributed truth-clarifying materials outside the concert hall and told people about Falun Gong and the persecution of Falun Gong in China.
The following day, practitioners continued their group Fa-study and experience sharing. They talked about their cultivation experiences and how to better introduce Falun Dafa and clarify the truth.