Geneva: Where Does the Money for These Activities Come From? (Photos)
April 13, 2005 | By Wu Sijing, Minghui.org correspondent
(Clearwisdom.net) As a marketing manager of a transnational communications company, Martin from Baden-Wuerttemberg frequently travels around the world for business. Carrying master's degrees in both engineering and business administration, together with his honest and discerning demeanor, Martin's capability as a technical specialist and a businessman has never been questioned. Martin and his Taiwanese wife live a comfortable and happy life in Ulm, a pretty city in Germany. However, something continuously weighs on him.
In March every year, he takes a few days or even a few weeks off and goes to Geneva with his wife and others. Unlike his usual business trips, the reason that he travels there is not for himself but for the sake of others. Instead of making money, he uses his own savings to help his fellow Falun Gong practitioners who are suffering from the unreasonable persecution in China. At the Place des Nations in front of the United Nations building in Geneva, Martin and fellow practitioners from around the world demonstrate the Falun Gong exercises and hold press conferences to call upon the United Nations Commission on Human Rights to help stop the suppression of Falun Gong in China. They also go to the UN building to take part in or sponsor human rights symposiums. They go out on the streets in Geneva to parade, distribute flyers, and collect petition signatures or conduct art exhibitions in art centers to expose the persecution of Falun Gong. While doing this, they have to face interference from the "non-governmental organizations" dispatched by the Chinese Communist regime.
| | |
| --- | --- |
| Falun Gong practitioners' group practice at the Place des Nations in Geneva on March 20, 2000 | Falun Gong practitioners' group practice in front of the Geneva Youth Hotel on March 19, 2000 |
Since the year 2000, each March and April, there have been one to two thousand Falun Gong practitioners from Europe, Asia, Australia, North America and South America going to Geneva by plane, train or bus. For instance, practitioners from Germany, a neighboring country of Switzerland, usually car-pool and drive to Geneva, sharing the cost of gas. It takes five or six hours to drive from Baden-Wuerttemberg where Martin lives, to Geneva. The 100-Euro expense for the round-trip is shared by five practitioners who make the trip together. The cost is about how much a German university student would spend for four or five meals. It is also quite common for forty to fifty practitioners to rent a big tourist van together.
Before their trips, practitioners book the most inexpensive hotels in Geneva; that is, hotels rebuilt from underground air-raid shelters. One hotel room usually contains ten to thirty sleeping places, either bunk beds or a big wide bed. Practitioners need to bring their own sleeping bags and simple moisture-proof pads. One sleeping place usually costs less then 10 Euros. It seems that one is unable to find a cheaper place in Geneva, where the cost of living is so high that it is well known around the world. Some practitioners booked space at the Youth Hotel, where sleeping place costs about 20 Euros. As for food, practitioners often eat at fast food places. Turkish meat steamed bread is also popular. Sometimes, practitioners go to supermarkets to buy bread, cheese and sausages and make sandwiches themselves. This is most economical. Some cheap motels are also equipped with cookware and stoves, which is very helpful for Chinese practitioners who are not used to western food. Taking part in activities outside for a whole day and unable to have a hot meal, practitioners feel happy to cook a pot of instant noodles after they go back to their hotel. With some vegetables and seasonings, the noodles make a good meal.
It is not for no reason that Falun Gong practitioners try to save money. Martin, who has a good income, also lives in the cheap Youth Hotel. Like other practitioners of Falun Gong, Martin and his wife use their weekends and vacations to help fellow practitioners who are persecuted in China. In Germany, on almost every weekend, there will be one or two information booths set up at different places. Some practitioners demonstrate the Falun Gong exercises, some re-enact the torture methods used against fellow practitioners in China, some distribute flyers and others explain the facts to passersby. Martin and his wife often participate in these activities. They use their own savings to print Falun Gong truth-clarifying materials in German and Chinese. They also print large-scale posters and spend their own money to buy materials for the anti-torture exhibition. All of these cost quite a large amount of money. Martin has been following the principles of Falun Gong, which is not to collect money, property, or membership fees in the name of Falun Gong. Practitioners voluntarily and silently do things by themselves. Over the past few years, people could see Martin and his wife not only in Germany, but also in large-scale activities and experience sharing conferences in America. Of course, each time, they planned their budget very carefully.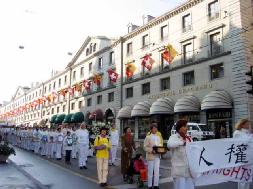 In March 2004, Falun Gong practitioners held a parade in Geneva. Practitioners dressed in white and held photos or signs with the names of practitioners who died from persecution. The third from right is Ms. Jane Dai. She carried the ashes of her husband, a Falun Gong practitioner who was tortured to death in China. Her daughter Fadu follows her.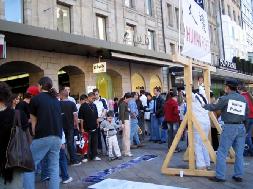 On March 28, 2005, during the 61st session of the UN Commission on Human Rights, Falun Gong practitioners hold anti-torture exhibitions on the streets of Geneva to expose the brutal persecution launched by Jiang Zemin's faction against Falun Gong.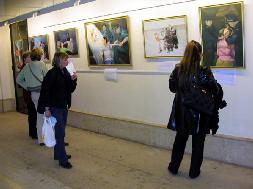 From March 21 to April 22, 2005, during the 61
st
session of the UN Commission on Human Rights, the "Uncompromising Courage" art exhibition, sponsored by the Swiss Falun Dafa Association, was held in the Grutli Art Center in Geneva. Institutions in Geneva offered the exhibition hall free of charge.
Martin's friend, Mr. Wu who also lives at Baden-Wuerttemberg, comes to Geneva almost every year at his own expense. A few years ago, he was still a student. It was reported that the money for his trip was obtained through savings from his daily food expenses. Mr. Wu, who is from Mainland China said, "I'm now living in a democratic society where I can enjoy the human rights that a person should have. However, I cannot forget those people who are unable to enjoy their basic human rights. In China, some people have even lost their lives for upholding their beliefs."
Sacrifice in terms of time and money to oppose the persecution is a logical thing for him to do. He said, "I believe all of this is very meaningful. I take part in Falun Gong activities, including going to Geneva to appeal on behalf of Falun Gong to the UN Commission on Human Rights. I do this out of my own conscience. Who could possibly offer money to buy my conscience? Of course, I pay for my own expenses. Some people don't believe that so many people are willing to spend so much effort and money for something unrelated to their own benefits. In fact, it is very easy to understand the reason. The principles of Truthfulness-Compassion-Forbearance that Falun Gong teaches not only awakened my conscience but also awakened the consciences of thousands, even millions of people. Among those millions of people, a small portion can afford the time and expense to come to Geneva. This is why in March and April every year, there will be one to two thousands practitioners conducting activities in Geneva."