Falun Gong Practitioners File a Lawsuit Against Jia Qinglin During His Visit to Austria (Photos)
(Clearwisdom.net) After visiting Korea, Jia Qinglin arrived in Austria on the 30th of August 2004. During his visit, the Austrian Falun Dafa Association, the International Human Rights Association, the human rights organization 'Society For Threatened Peoples', many individuals, and practitioners who were persecuted in Beijing jointly filed a lawsuit against Jia Qinglin in the Vienna Procuratorate for torture.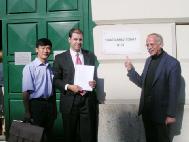 Practitioner representative and with lawyer outside of the Vienna Procuratorate
On August 31, the Austria Falun Dafa Information Center and International Society for Human Rights jointly held a press conference regarding Jia's visit. A spokesperson of the center exposed how Jiang persecuted practitioners during his tenure as the Party's General Secretary in Beijing. Representatives of the International Society for Human Rights introduced legal details of the lawsuit.
Press conference
Upon hearing that Jia was to visit Austria, Austrian practitioners, while preparing a lawsuit against Jia, used all possible methods such as personal meetings, phone calls, and mail to expose Jia's crime in the persecution to Austrian officials. August 31 was the first day of Jia's visit. Though weather in Austria had been good, the temperature suddenly dropped and the sky was covered with black clouds on this day. It started to rain in the morning. At Salzburg, Jia's first stop, practitioners held an information day and displayed "Jia Sued for Torture and Persecution" and "Bring Jiang Zemin to Justice" banners. The delegation, including Jia himself happened to pass by, and quite likely saw the banners.
Tourists from all over the world saw the practitioners' posters and peaceful exercise demonstration. When Chinese tourist groups passed by, many of them also took fliers with them. An English-speaking tourist was shocked by Gao Rongrong's disfigured face (shown in a poster), and she asked if such things were still happening. After listening to the practitioners' explanation, she was outraged by the persecution.
Salzburg information day
In the evening, Jia visited the Austria Prime Minister's Office, and practitioners displayed banners in front of the Office. As the banners were hoisted very high up, Austrian officials and Chinese delegates inside the Office could see them clearly. Some Chinese officials asked Austrian police to order the practitioners to lower the banners. Pointing out that Austria has no limitation on the elevation of banners, the police rejected this unreasonable request
Sending righteous thoughts in front of the Austria Prime Minister's Office