Toronto, Canada: Crimes in Broad Daylight, Mourning in the Candlelight (Photos)
(Clearwidom.net) Clearwisdom correspondent Yuexin reports from Toronto: July 20, 2004 marked the start of Jiang's persecution of Falun Gong five years ago. Over the past five years, Jiang's group has not only created the policy of "Defame their reputation, bankrupt them economically and destroy them physically," attempting to eradicate Falun Gong and causing the death of at least 1,006 Falun Gong practitioners, the Jiang group has also extended such lies and hate propaganda outside of China, including Canada. On July 20, 2004, Falun Gong practitioners in Toronto held a series of activities to commemorate July 20. Activities included a water lantern mourning ceremony, an anti-torture exhibition, and a community appeal -- a petition in opposition of hate propaganda, to extensively and deeply expose to the Canadian government and people from all walks of life the facts of the unprecedented brutal persecution, and to call upon more kind-hearted people to work together to stop the catastrophe.
Crimes are Still Going on in Broad Daylight
Over the past five years, Jiang's group has imposed various physical and mental tortures upon Falun Gong practitioners. The documented torture methods used during this unprecedented persecution have numbered well over 100. However, Jiang's group tries to block information about the truth, and therefore not only do the people inside China have no idea that such brutal persecution is going on around them, but many overseas Chinese people also do not know the degree of the persecution's brutality. On July 20, Falun Gong practitioners held a live torture demonstration in the busiest area of Toronto's Chinatown.
On the afternoon of July 20, Falun Gong practitioners reenacted several torture methods, including being hung up and beaten, the "Tiger Bench," being tied up, hammering bamboo sticks into practitioners' fingers and being forced to squat in a small metal cage, to expose the inhuman persecution of Falun Gong practitioners. A steady stream of people passing by stopped and watched, requesting truth-clarification materials or inquiring further about the truth. Many people could not help exclaiming, "In this day and age, there are such things happening. Incredible!" People signed the petition to call for an end to the persecution and to demand severe punishment for Jiang. Many Chinese people also stopped and carefully watched and read the truth clarification materials, and even signed their names to express support. According to Aunt Li who was busy with collecting signatures, one-third of the Chinese people signed the petition.
Besides the torture demonstration, a practitioner whose mother is suffering persecution in China and a practitioner who has personally experienced the persecution, explained the facts to the public. However, some Chinese people whose minds have been deeply poisoned by the lies and propaganda said that the torture demonstration was trumped-up, that no such things could happen in China. This made people see all the more, the persecution's brutal nature and deceptiveness of the lies. Any person with a sense of conscience would not want to believe that such crimes are still going today in broad daylight.
Several practitioners stood beside the exhibit and explained in Mandarin, Cantonese and English, "What you see now is a reenactment of torture methods used in China to persecute those Falun Gong practitioners for believing in 'Truthfulness-Compassion-Tolerance.' Actually, the torture methods being used in China number well over 100. Today, we are demonstrating four torture methods, only the tip of the iceberg. Many torture methods are hard to reenact, such as sexual mistreatment, being locked in water dungeons, long-term electric shock and other torture methods. We sincerely hope that you won't believe Jiang's lies and propaganda. It is a blessing to be able to learn the truth. Your kindness, even if you keep it in your heart, is a tremendous support. We also hope that you remember that Falun Dafa is good, that Truthfulness-Compassion-Tolerance is good, and we hope you will have a wonderful future, with no regrets."
One of the organizers of the anti-torture exhibition, Dr. Fan from Toronto University, said, "This activity today is only a beginning; we will continue using this format to help more Chinese people and other kind people around the world to learn about the brutal persecution, and to work together to stop such atrocities."
| | | | |
| --- | --- | --- | --- |
| | | | |
People are shocked at the brutality of the persecution
| | | | | |
| --- | --- | --- | --- | --- |
| | | | | |
Chinese people sign the petition to condemn the persecution
rief in Lotus Lanterns
On the evening of July 19, Toronto practitioners held a water lantern vigil, floating lotus lanterns with lighted candles on the surface of water, in a beautiful and tranquil suburban park to commemorate the more than one thousand Falun Gong practitioners who have died as a result of persecution in China. Representatives of Falun Gong practitioners and representatives of Friends of Falun Gong gave speeches at a press conference.
Falun Gong practitioner Jeff Loftus said in his speech, "The genocidal and anti-humanity persecution has been covered up by a nationwide information blockade and hate propaganda, to attempt to brainwash all Chinese people. Over the past five years, Amnesty International, Human Rights Watch, and other international human rights organizations and many governments have documented the facts that several hundred thousand Falun Gong practitioners have been illegally detained, sent to forced labor camps, and mental hospitals, thousands of innocent practitioners, including women and children, have died as a result of Jiang's group's eradication policy implemented from the top down to all levels of government. Five years have passed, and Falun Gong practitioners' peaceful and rational appeal against the brutal persecution has won support from hundreds of thousands of people and officials around the world. They have openly stood up to condemn and help stop the persecution. During the past five years, this most evil suppression has never changed Falun Gong practitioners' belief in Truthfulness-Compassion-Tolerance. Just because of this, Jiang's group will soon see that spiritual strength is invincible. Perpetrators will eventually be held accountable."
Mr. He Lizhi, an engineer from the State Design Institute, who was just rescued from detention in China and allowed to come to Canada, said in his speech, "I was abducted by the National Security Bureau in 2001 for mailing Falun Gong truth clarification materials, and was sentenced to three and a half years of imprisonment. While in prison, I witnessed Jiang's group's brutal persecution. The guards colluded with detained ruffians to beat, torture and abuse Falun Gong practitioners who did not give up their belief. A practitioner in the cell next to me was seriously injured and could not walk, and finally he was dragged to a hospital. Another practitioner who had a similar situation as I, named Wang San, was also sentenced to prison for mailing truth clarification materials. Later, after being released, he was detained again for clarifying the truth to people; this time he was tortured to death in a very short period of time. Many practitioners' relatives in China dared not call for redress of the injustice even though they have lost their loved ones, under pressure from Jiang's group's despotic power. I'm very sad upon seeing these practitioners' portraits. They lost their lives for upholding the truth, but their spirit exists forever. I'm unable to use any words to describe their greatness, but the evil will eventually come to a disgraceful end."
New practitioner Zeng Xiaonan, who immigrated to Canada last year and whose mother is suffering brutal persecution in China, spoke about his concerns at the memorial ceremony. Mr. Zeng wished to tell his mother on the other side of the ocean, who is experiencing so many tribulations, that he eventually walked on the path of cultivation. Like his mother, he believes in and safeguards the universal principle of "Truthfulness-Compassion-Tolerance." He also wanted to tell his mother that he has tried his best to call upon kind-hearted people, together with other Falun Gong practitioners overseas, to help his mother be released from prison in a dignified manner and be reunited with him in Canada.
Zeng Xiaonan's mother Huang Xin, a retired military chemical examiner, was often detained for persisting in practicing Falun Gong and for explaining the facts about Falun Gong to her neighbors. She was eventually sentenced to eight years of prison. While in prison, because she refused to give up Falun Gong, she was daily forced to take large overdoses of drugs in a hospital affiliated with Liaoning Province's Female Prison. The drugs have caused loss of memory, and impaired movement and thinking in his mother.
Mr. Zeng held a display board on which there was a photo of him talking with his mother and his uncle, Falun Gong practitioner Wang Jinzhong. Mr. Zeng was shocked to read on Clearwisdom.net about the death of his uncle. Mr. Wang was abducted on the afternoon of May 20, 2004, and was tortured to death three weeks later on June 14. Mr. Zeng was almost heartbroken upon hearing the news. He hoped that more people could help stop the persecution and secure the early release of his mother and other detained practitioners.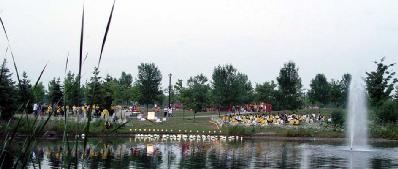 Water lantern memorial ceremony
Lotus lanterns express grief
| | | | |
| --- | --- | --- | --- |
| | | | Xiao Zeng holds a display board with a photo taken with his mother and uncle Wang, calling for a stop to the persecution |
The Evil Must not be Allowed to Continue
Chairman of Toronto Friends of Falun Gong, Mr. Hong Shizhong, expressed his condolences for Falun Gong practitioners who have died as a result of the persecution, and his support for Falun Gong. Mr. Hong has been resisting pressure from the Chinese Consulate since the beginning of the persecution, and openly expressed his support for Falun Gong. Mr. Hong said, "The suppression is doomed to fail. People who support you and show sympathy for you have been increasing in number. We believe that the ultimate triumph will definitely belong to you, and I hope you keep up with your efforts."
After the water lantern memorial ceremony on July 19, Toronto practitioners held a candlelight vigil on July 20 outside the Chinese Consulate in the heavy rain. Practitioner Ms. Yao said, "The candlelight vigil tonight expresses overseas practitioners' highest respect and deep grief to those who lost their lives. We also hope to take this opportunity to awaken the conscience of more people who will extend their help to end this most huge catastrophe in human history."