HK Legislative Council Member Says that With Article 23: "The Devil Is In the Details" (Photo)
(Clearwisdom.net)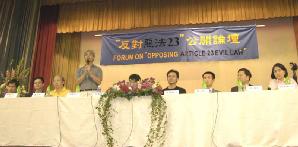 Words below the photo: Falun Dafa Association of Hong Kong Forum Opposing Article 23
The Falun Dafa Association of Hong Kong held an open forum yesterday opposing Article 23, and invited religious organizations, democratic organizations, human rights organizations, other organizations opposing Article 23 and politicians to express their viewpoints on Article 23. Law Yuk-kai, Director of Hong Kong Human Rights Monitor, began his speech saying, "Actually we human rights activists admire you (Falun Dafa practitioners) very much, because you are so united, so firm under such a difficult situation. If all people who fight for democracy and human rights were like you, the situation would be much different. Luckily, even if we do not do that well, you will do well for us.
Closed-door Hearings Held in Absentia
Law Yuk-kai reported that, in the last few days before submissions for the public consultation on Article 23 ended December 24 last year, the People's Human Rights Coalition (comprised of more than 50 organizations against Article 23) received almost 100,000 public statements opposing this article. The hard work of Falun Dafa practitioners quickly brought this number up to 170,000. The effort was not in vain, as the Hong Kong government did respond positively to some of the clauses proposed in Article 23, but those crucial to Falun Dafa practitioners became worse. The government will be allowed to conduct closed-door interrogations without producing any evidence when dealing with groups banned in Mainland China, and will also be able to conduct "hearings" without the accused or his/her legal counsel in attendance. This, they would call "justice."
No One Can Feel Safe
Law Yuk-kai pointed out that the Tung Chee-hwa government, and even the Chinese Central government said they would "manage the country with law." They need to concoct an excuse to "deal with" certain people, including Falun Dafa practitioners. With the kind of law proposed, no one can feel safe.
He further expressed that the newspapers are full of positive reports about the proposed legislation, but no information on opposition can be found because the media is afraid to report it. Once the media is in fear, the scholars are in fear, and once every one that involved in politics and public affairs is in fear, the society will immediately be completely different. Hong Kong citizens should guard their own space with the participation of the whole of society. We should all make further efforts to make sure everyone in Hong Kong is aware of this.
"The Devil is In the Details"
Law Yuk-kai said that the draft of Article 23 has been put forth, but many details are problematic. As Hong Kong Legislative Council member Martin Lee said, "the devil is in the details". Because the government is controlling people according to the law, it is easy to find something against you. Falun Dafa practitioners can personally attest to this. Even if we change the law to better represent people, if the government does not have a concept of law or human rights, it can always "invent a charge to condemn you."
Law Yuk-kai finished, saying "it is pitiful that there is no democratic system to protect citizen's rights and freedom, and even the final judgment within the legal system can not protect people's rights."
International Human Rights Resolution: "Rebellion is Reasonable"
Subversive activity holds a special position in International Human Rights Resolutions. The prefaces of International Human Rights Resolution, International Covenant on Civil and Political Rights, and International Covenant on Economic, Social and Cultural Rights all state clearly that if the government does not protect legal freedom and basic human rights, people will be forced to risk danger in desperation against this violence. Rebellion is reasonable if the government does not protect people's rights, and uses power to suppress people. Law Yuk-kai expressed his wishes that everyone join efforts to change the government so that democracy can one day appear, and give people more protection. Otherwise, he believes more legal rebellion will occur.