Chinese Leader Afraid to See Bright Golden Yellow in Mexico (Photos)
(Clearwisdom.net) China's leader has an instinctive fear of bright yellow judging from his behavior in Mexico. Security officers revealed that he required Mexican authorities to avoid letting him see bright yellow, as Falun Gong practitioners usually wear bright yellow T-shirts in their group activities.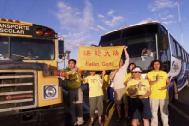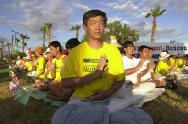 The day China's Communist Party head arrived in Las Cabos, Mexico, about 70 Falun Gong practitioners had been waiting at an intersection several minutes away from the airport to protest. Five minutes before Jiang's motorcade arrived, a Chinese woman arrived in a car and stepped out to talk to a Mexican police authority, and made a couple of quick calls on her cell phone. A Chinese nearby told practitioners that she was a staff member of Mexico's Chinese embassy.
When the motorcade arrived, three big buses suddenly drove by and stopped in front of the Falun Gong practitioners, completely blocking the practitioners and their banners. Several practitioners managed to walk out of the group, holding their banners to let the visiting dictator's entourage see as they whisked past in their motorcade.
A practitioner remarked that one of the three buses had been waiting nearby for about 45-60 minutes. When practitioners asked why the bus had stopped there, along the roadside 50 meters or so behind the practitioners' appeal, a police officer said the bus had broken down, and the driver then opened the hood and appeared to be working on the engine.
The media, including Reuters, AP and others from the US, Taiwan and Mexico were all on the spot. Some reporters shook their heads and felt it ridiculous to use such method to block protestors. Obviously, Mexican police were under pressure and had to avoid letting the evil Chinese leader see Falun Gong practitioners' bright yellow T-shirts.
Two days later, when the leaders of many countries gathered at a luxury hotel to release the joint declaration of the APEC summit, four buses again deliberately blocked 15 Falun Gong practitioners who were appealing across the street, facing the hotel. A Mexican police officer told practitioners that the Chinese leader did not want to see bright yellow. It was interesting that practitioners who did not wear bright yellow T-shirts could move freely in front of the hotel.
As there were many protestors, bright yellow T-shirts could be seen everywhere. This head of state who fears bright yellow clothes could not avoid seeing them. When he visited Korean delegates, his motorcade had to pass over 100 Falun Gong practitioners sitting in meditation. No police officers blocked the practitioners this time.
At 9:45 a.m., Sunday, when the Chinese leader's motorcade headed to the airport to board a plane for San Francisco, the motorcade went the wrong way on the freeway to minimize the leader's proximity to the Falun Gong appeal, but the appeal was still in clear view to the passing motorcade. Over 70 practitioners were waiting at the roadside displaying banners reading, "Falun Dafa is good," and "Jiang regime: stop persecuting Falun Gong." Two practitioners in bright yellow came across Jiang's motorcade on the road and immediately unfurled their Falun Dafa banner, letting all people see clearly what Jiang least wanted to see.