A Japanese Practitioner Appeals For The Rescue of His Brother, Sentenced to Ten Years In Prison (Photo)
November 01, 2002 | By Xie Yunhua, (a Japanese citizen), practitioner from Japan
(Clearwisdom.net) My brother Xie Yunhuan (D.O.B. May 9, 1975) is 27-years-old. He took up Falun Dafa in 1996 and has been practicing for 6 years now.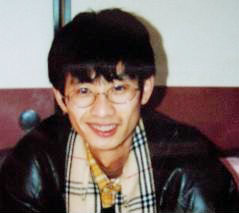 Picture taken on February 1, 2000, when Yunhuan came back to China from Japan.
My brother came to Japan to study in April 1999. Soon the Zhongnanhai Incident happened on April 25 with over 10,000 practitioners peacefully appealing for Falun Gong, followed by the beginning of the brutal persecution of Falun Gong by Jiang's regime on July 20. In February 2000, Yunhuan decided to go back to China to appeal for Falun Dafa. As soon as he arrived, the Jidong County Police Bureau of Heilongjiang Province wanted him. (As six members of my family practice Falun Gong and my mom was the volunteer contact person, our phone was tapped. My mom, sister and sister-in-law had been detained illegally numerous times). Yunhuan left home and was on the run, going on a very difficult journey promoting Falun Dafa. He went to Beijing several times risking his life spreading the truth and exposing the evils. In the meantime, he managed to keep in touch with me.
In March 2001, I lost contact with Yunhuan until July when I received word from him: He was kidnapped and brought to Beijing Tuanhe Labour Camp on March 12, 2001 to for brainwashing and he also suffered from scabies while he was there. It was hard to imagine how much he suffered as the labour camps in China are known as "hell on earth".
At the end of July 2001, Yunhuan was escorted back to No 1. Detention Center of Jixi City, Heilongjiang Province, where he was held till August 2002. At the end of August, Jiguan District Court of Jixi City sentenced him to 10 years in prison at an illegal trial, with no witnesses, no evidence and no lawyer representing Yunhuan, except for some fabricated evidence that accused Yunhuan of "making 1600 copies of Falun Gong flyers, and producing 90 wax papers for copying". The news was reported on Clearwisdom net on September 20. (Please see http://www.clearwisdom.net/emh/articles/2002/9/20/26686.html for further information). Before the trial, the police tortured and tried to trap Yunhuan into making a confession. He was deprived sleep for a dozen days. How credible was the evidence fabricated by the police? It is outrageous that the totalitarian regime in China can persecute at will these kind-hearted people who pursue Truthfulness-Compassion- Forbearance, trampling the country's constitution and laws as if they do not even exist.
From the time when my brother was arrested till he was sentenced, no legal procedures were followed. None of the family members were allowed to see him.
My brother could only tell me a tiny bit about his suffering in jail in his letters. I heard that many criminals such as murderers were held in No 1. Detention Center; the guards are also very evil, hitting and shocking practitioners with electronic batons frequently. Family members have to pay a 50-Yuan service charge every time they send in personal items. In prison, items for everyday use are sold at prices that are a few times higher than normal.. Once, my family sent in 200 Yuan worth of food and in the end, only two packs of preserved mustard reached my brother's hands. My brother didn't have enough to eat even though he is a small eater. The cell he was in is about 20 square meters (about 200 square feet) with over 40 people in it. From his letters, I can feel that he was depressed sometimes, but he still maintained his righteous thoughts. I am very worried that he may not be able to endure it for much longer given his health condition.
Lately, my worries were confirmed. In early September 2002, when the Public Security Bureau heard that my mom came back, a dozen policemen from the Political and Security Department of Jidong County Police Station, headed by Li Qinghua, surrounded our house. When they couldn't find my mom, they ransacked my brother's home and found a few Dafa books and articles. On the following day, they arrested my sister-in-law and held her at the No. 1 Detention Center of Jixi City for about a week. She was only released after her family paid a 1700 Yuan fine. While she was detained, she witnessed the police shocking female practitioners' vaginas to make them write guarantee statements; other female practitioners suffered burnt nipples. Please send forth righteous thoughts to eliminate the evil elements in other dimensions.
Although my brother has been sentenced to prison, he is still being held in No. 1 Detention Center. He might be moved to a prison in Harbin City. It is not clear whether he will be able to see his family before he is moved.
I appeal to people with a sense of justice and conscience to pay attention to the human rights situation in China and to appeal to the Chinese government to end the persecution of Truthfulness-Compassion-Forbearance by the Jiang regime, restore the reputation of Falun Dafa, release all Falun Dafa practitioners in prison and put an end to the calamity and to punish the culprits.
Responsible Units
Beijing Tuanhe Forced Labour Camp
No. 1 Detention Center of Jixi City, Heilongjiang Province
National Security Brigade of Jixi City, Heilongjiang Province
Jiguan District Court, Jixi City, Heilongjiang Province
Jidong County Public Security Bureau, Heilongjiang Province
Perpetrators
Yang Daren of Jixi City 610 Office
Sun Huaping, Party Secretary of the Political and Legal Commission of Jixi City
Song, a policeman of Jixi National Security Brigade
Li Qinghua of the Political and Security Department of Jidong County Public Security Bureau

P.S.
Not long ago, my sister Xie Mingjuan bought her way in to see Yunhuan, who had been held for more than 18 months and had been sentenced to 10 years in prison. He had lost more weight. When he was escorted back to Jixi No.1 Detention Center, he was tortured for 42 days. He was deprived of sleep, and food except for a bowl of broth in the morning and in the afternoon. As soon as he closed his eyes, he was shocked by electric batons. He said that some practitioners suffered even more than he did. Yunhuan regretted what he signed and said under torture that did not meet the standard of a Falun Dafa practitioner, and he asked me to issue a statement on his behalf. Please find the attached statement and send it to Minghui Net.
I solemnly declare my words and deeds under high pressure that did not meet the standard of a Falun Dafa practitioner while in jail are null and void. I maintain my firm belief in Falun Dafa and will follow the Teacher. There is nothing wrong in being a good person, nor was it wrong to follow "Truthfulness-Compassion-Forbearance".
Falun Dafa practitioner Xie Yunhuan
October 16, 2002
The Situations Of My Other Family Members
My mother, Zhan Qingmin, 60-years-old, has been detained 5 or 6 times since January 2000 by Jidong County Public Security Bureau for a total of 3-4 months. She has been on the run for about two years now and her employer Hongshaonian Primary School of Jidong County had suspended her salary for over two years. The police all over the place are trying to arrest her. All related costs have been deducted from her pension.
My sister-in-law, Zhao Yumei, 38-years-old, went to Beijing to appeal for Falun Gong with my mom and Yunhuan. While Yunhuan managed to escape from the police, my mom and Yumei were arrested. My mom was released after she went on a hunger strike for nine days. When she was sent back to her hometown, Jidong County Public Security Bureau detained her. Following the guidance of Master Li, she was able to walk out of the detention center, but had to leave home to avoid further persecution. Yumei was sent back to Jidong County Detention Center and was held there for four months. She was only released after she paid a fine of 6000 Yuan. In August 2002, her home was ransacked and she was jailed in Jixi No. 1 Detention Center where she was violated and tortured. She was only released after a fine of $1700 was paid.
My sister, Xie Mingjuan, 35-years-old, had been arrested by Jidong County Public Security Bureau four times. She was on the run with my mom for about 6 months. Early 2001, she went to Tiananmen Square to appeal for Falun Dafa and was arrested. She was jailed and then put under house arrest for a few months. Her salary was suspended for a year. Then she was sentenced to two years in forced labor camp . Her term was served outside of the jail, guaranteed by her employer, Jidong County Hydro. She received only 200 Yuan for her living expenses.
My other brother Xie Yunjie, 31-years-old, went to Tiananmen, Beijing to unfurl a banner and was arrested. He was jailed in Bin County Public Security Bureau of Heilongjiang Province for 39 days. He was then released with the guarantee of his employer because he was needed for his expertise. However, wherever he goes, he has an escort.
Six members of my family practice Falun Dafa and five of those who are in China are persecuted to varying degrees. I was spared because I am living outside of China. This is a case in point of how the Jiang regime breaks up families with its persecution of Falun Dafa.
October 15, 2002