Two Western Practitioners from Los Angeles Participating in the Tiananmen Appeal Return Safely; Local Practitioners Welcome Them with Fresh Flowers
At 6:30 p.m. on November 21, 2001, Falun Gong practitioners Leeshai Lemish from Los Angeles and Brad Carson from northern California arrived at Los Angeles International Airport safely after participating in the Tiananmen demonstration. Dozens of local practitioners welcomed them and presented fresh flowers to express their sincere greetings: "We are proud of you."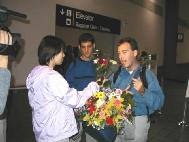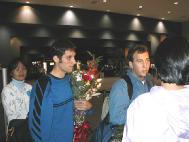 Leeshai Lemish briefly described his experience of being arrested and beaten by Chinese police in Beijing. Later, the local practitioners found that Leeshai had socks on his feet only and held one shoe under his arm. He said that the other shoe was held by the Chinese police.
Leeshai is 23 years old. He was born in Ohio and moved to Israel along with his parents at 5 years old. After finishing high school in Israel, he returned to America to study in California. He has practiced Falun Gong for ten months. His mother in Israel was worried about his arrest and expressed her understanding and support for her son's action. She was proud of him for his active involvement in human rights protection.