CNN: China arrests Western Falun Gong demonstrators
November 20, 2001 | By Jaime Florcruz, CNN Beijing Bureau Chief
November 20, 2001
BEIJING, China (CNN) -- About three dozen Western practitioners of the spiritual movement Falun Gong were detained Tuesday afternoon after staging a protest in Tiananmen Square.
The practitioners, most of them youthful, looked like tourists at first, posing for group pictures in the square.
But soon after 2 pm, the group sat in lotus position with eyes closed while others unfurled a large yellow banner emblazoned with the words "truth, benevolence and forbearance," one of the group's oft-repeated slogans.
In less than 10 minutes, police stationed on the margins of the square dashed toward the group and aborted the protest.
Uniformed officers wrested the yellow banner away as others began to push the group members into vans.
The protesters resisted passively, and police did not rough them up this time, apparently because they were Westerners.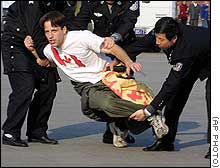 An unidentified man wearing a T-shirt with a Canadian flag is wrestled down by Chinese police officers in Tiananmen Square
One male demonstrator briefly broke free of the police cordon and ran toward a group of startled Chinese onlookers, shouting in Mandarin, "America knows, the world knows, that Falun Gong is good."
The nationalities of the protesters have yet to be determined. It is also not clear if criminal charges were filed against them.
Some Chinese officials claim the government is close to eradicating the movement. Falun Gong protests in the mainland have dwindled in frequency and intensity in recent months in the face of an intense Chinese crackdown.
Beijing officially outlawed the group in July 1999 and since then has systematically combatted it through massive propaganda and arrests.
The government has branded the group an "[Chinese government's slanderous words]" ... Thousands of practitioners are in jails or labor camps.
Many more have been pressured into renouncing the group, while others have been forced underground.
Falun Gong says nearly 300 practitioners have died in custody and that many have been tortured.
http://asia.cnn.com/2001/WORLD/asiapcf/east/11/20/china.falungong/index.html