Case One: Cao Zhenqi, male, 36, farmer, Changyi County, Shandong Province
On Feburary 15, 2000, Cao Zhenqi went to Beijing to appeal [for Falun Gong], and on Feburary 18, the local county police took him back. The head of the detention center, Shao Mingyi, used a rubber club and boots to beat and kick his face and ribs. Cao Zhenqi then was handcuffed outside in the cold. Afterwards, the county leaders personally beat him. Cao Zhenqi was detained in Changyi Criminal Detention Center for one month. After returning to his village, he was detained for another 22 days. After staying at home for ten days, and on April 25, he was again detained by the village for two days.
To obtain more materials, I searched the Yellow Pages and found a local printing company. I called the number and told them I needed to make two thousand copies of several newspapers. I also told them the exact size and page numbers, as well as the colors and the number of pictures in the newspapers, as they requested. Then I went to the company with the originals at the appointed time. The company was fairly small, and the boss, Jim, warmly greeted me. During our conversation, I got to know that he had heard of Falun Gong before. After he studied the newspapers carefully, he gave me a solid answer: "Yes, I can do it." He said that he could not quote an exact price for me until the next day because he needs to scan the color pictures in the newspapers. I said "no problem." He then asked me how soon I needed them. Since I did not want to push him, I just told him to do it according to his own schedule. He said he could get it done in a week.
~ Other Community Events ~
~ Journeys of Cultivation ~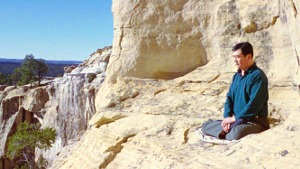 Master Li quietly watching the world from amidst the mountains after leaving New York following July 20th, 1999. (Published January 19, 2000)