Washington DC: Freedom for Falun Gong Rally at the National Mall Attracts Attention of People from Around the World (Photos)
(Clearwisdom.net) More than 700 Falun Gong practitioners from around the world gathered on July 19, 2009 on the large lawn at the National Mall on Capitol Hill to do their exercises together.
Exercising in the burning sun, practitioners' peaceful scene attracted the attention of many tourists passing by. At the rally following the exercises, people of different nationalities played music, sang songs and gave speeches, calling upon the international community to show concern over the decade-long persecution of Falun Gong by the Chinese Communist Party (CCP).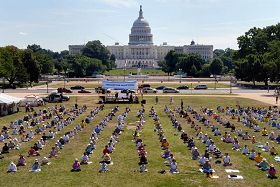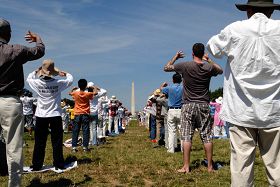 Practitioners do the exercises in a large group at the National Mall on Capitol Hill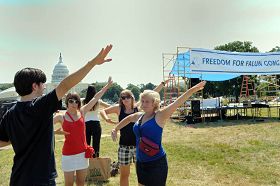 Passersby learn to practice Falun Gong on the spot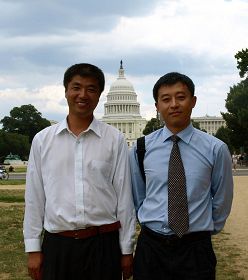 Xu Yin (left) and Bu Dongwei (right), who suffered persecution in China, came to DC to support the efforts to end the persecution
Ms. Barbara Thompson, a resident of a small town in South Australia, took up Falun Gong seven and a half years ago. She said that this was the first time that she came to Washington DC to take part in such a large-scale activity. Ms. Thompson said, "I handed out Falun Gong truth-clarification flyers to people passing by, and they were happy to take them. Some people came to learn to practice the exercises. I'm pleased to see so many Falun Gong practitioners and see that Falun Gong is winning support and is warmly received."
Sahar from Syria came to Washington DC to attend a meeting of the International Monetary Fund. She and her colleague from Uzbekistan heard about Falun Gong for the first time at the rally. After having learned what Falun Gong is all about and the persecution taking place in China, Sahar said, "I think the practice is very good. They do not oppose anybody, anything, or any government, but only cultivate themselves to be good people. I don't understand why the CCP does not allow the Chinese people to practice Falun Gong. In my view, the CCP's way of doing things is weird, and I'm indignant at their way of treating the people."
Imed, who just graduated from his PhD courses, and his tutor came to Washington DC from Tunisia to attend a symposium at the Holocaust Memorial. They learned to practice Falun Gong on the spot. Imed said, "We feel great, I like it very much, a completely different feeling. We want to bring Falun Gong to our hometown." His tutor said, "I also believe that the cultivation of body and mind is inseparable. When our bodies calm down, our hearts will be at peace. I like this practice."
Imed said that it is a shame that the CCP suppresses Falun Gong. He said, "I want the U.S. government to exert pressure on the CCP, and help these people to freely choose their belief. This practice is so peaceful, why don't they allow people to practice it?!"
Mr. Eugene Wesper is a network engineer in the Washington area. He took many photos at the exercise spot, and said that he would paste them on his personal website. Mr. Wesper said that he had heard about Falun Gong, and also about the persecution of Falun Gong in China. He once saw photos of women Falun Gong practitioners being beaten and tortured in prison in China. He knew that these people were hurt. He said, "Although I can't do much, when I talk with others, and when they talk about China's economy, I will tell them what price they have paid for it and tell them what has happened in China."
Mr. John Kusumi, president of the "China Support Network," learned about Falun Gong at the beginning of the CCP's persecution in 1999. He said that he has seen a great change over the past ten years. At the beginning of the persecution, only Falun Gong practitioners knew about Falun Gong, and few people in the outside world had heard about it. During Falun Gong practitioners' ten-year efforts of resisting the persecution, they have won support from more and more righteous people. Mr. Kusumi came to attend the rally in Washington DC from Connecticut, and brought his band to perform on the spot to support Falun Gong.
Timothy Cooper, executive director of "International Human Rights Advocacy" said, "Ten years ago, the persecution of Falun Gong in China drew my attention. Human rights organizations from around the world take part in this rally to support Falun Gong, mainly because we all believe that it is a human rights issue. They [Falun Gong practitioners] should enjoy freedom of speech, freedom of assembly, freedom of belief and freedom to exercise. So in the past ten years, we have been supporting their basic freedom and human rights."
Associate Professor Xu Yin from the Department of Civil Engineering at Qinghua University was detained by the CCP when he was in China. He successfully came to the U.S. last August after his release. This was the first time that he took part in the activities overseas to end the persecution.
Talking about his feelings, Xu Yin said, "All of a sudden I came to the U.S. from the oppressive environment in China, and came to the capital of the U.S., the political center, to freely voice my thoughts and call for an end to the persecution. This is unimaginable. Especially since I came from China, from an evil environment to a free environment, I feel very relaxed. I also feel the responsibility on me, because many fellow practitioners in China are still suffering persecution, I should work hard to stop the persecution and rescue them. I can understand that kind of ordeal in China, because I was imprisoned before. They endure suffering at every moment. I'm quite clear, and I also want to try my best to rescue them."
Falun Gong practitioner Bu Dongwei was detained over two years ago by the CCP and came to the U.S. at the end of 2008 with many people's help. Bu Dongwei worked at the Beijing Office of the U.S. Asia Foundation headquartered in San Francisco. He is in charge of a project dedicated to providing legal assistance and advice for migrant workers. Bu Dongwei, along with his wife and daughter, came to Washington DC to support the efforts to end the persecution.
Bu Dongwei said, "Overseas Falun Gong practitioners' ten-year truth clarification efforts subdue the perpetrators who persecute Falun Gong in China. Under pressure, they at least restrain themselves on the surface. In 2000, I was detained in a forced labor camp for the first time. I was forced to package chopsticks in a dirty environment. I worked over ten hours every day, and I was not allowed to sleep if I could not complete the quota. In 2006, I was arrested again. I noticed that the forced labor camp authorities no longer ordered Falun Gong practitioners to pack chopsticks, though one could see chopsticks transported out of the camp every day, but non- practitioners did the work. So it can be seen that they are afraid of being exposed."
Ms. Dai Zhizen and her daughter Chen Fadu came to take part in the rally in Washington DC once again. Fadu was still a little girl when Ms. Dai Zhizhen's husband, Chen Chengyong, was killed in 2001 in the persecution for remaining steadfast in Falun Gong. Eight years have now passed, and Ms. Dai and her daughter have traveled to over 40 countries calling for an end to the persecution.
Ms. Dai said at the rally, "All mothers in the world want to give the best to their children, but in China, many children suffer pain like my daughter. Nobody sees them cry, and nobody hears their voice, they have no chance to speak. I want to stand up to voice their concerns, I hope that we can work together to end the persecution, and give these children a normal life."
July 20, 2009 marked 10 years of Falun Gong practitioners' efforts to end the persecution. Practitioners from around the world held a series of activities to call for an end to the persecution. More than 3,000 Falun Gong practitioners gathered in Washington DC to hold four days of activities.
Background
Falun Gong, also known as Falun Dafa, is a traditional Chinese spiritual discipline for mind and body. The practice involves slow, gentle movements and meditation. It is easy to learn, enjoyable to practice, and free of charge. Its principles are based on Truthfulness-Compassion-Forbearance. The practice began in China in 1992 and quickly spread by word of mouth throughout China and then beyond. Its beneficial effects in uplifting an individual's physical, mental, and spiritual health, not to mention its positive influence in the community and society as a whole, have been undeniable. In fact, Falun Gong is practiced by over 100 million people in over 110 countries. The main works of Falun Gong are available in over 30 languages.
On July 20, 1999, the Chinese Communist Party (CCP) launched a brutal persecution of Falun Gong. Since the start of the persecution, Falun Gong practitioners throughout the world have been constantly speaking out about the truth of Falun Gong and exposing the CCP's crimes in a tireless effort to end the persecution.
Views expressed in this article represent the author's own opinions or understandings. All content published on this website are copyrighted by Minghui.org. Minghui will produce compilations of its online content regularly and on special occasions.