Economist: "I Found a Treasure Watching Shen Yun" (Photos)
July 17, 2009 | By Minghui reporter Huang Kaili
(Clearwisdom.net) Shen Yun Performing Arts presented its first show at the Auditorio Belgrano in Buenos Aires on June 27, 2009. Its rich and profound expression of traditional Chinese culture has won widespread praise from the audience. Many in attendance share their excitement with friends and family, encouraging them to come and see the show for themselves.
Prominent Argentine attorney Adolfo Casabal Elia and wife were among them. After watching the Shen Yun show on the night of July 3, Elia said, "Everything in the show is perfect. It is splendid, and worth watching again and again."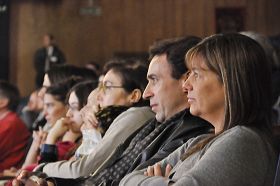 Audience in Buenos Aires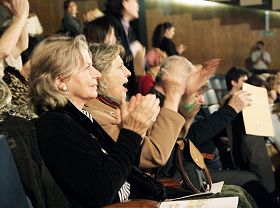 Audience in Buenos Aires
Performances Transmit a Divine Message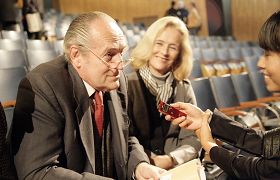 Mr. and Mrs. Elia watched the Shen Yun show on July 3, after friends recommended it to them. They said they had never seen such a splendid show before.
After the show was over, the couple were still glued to their seats, not wanting the show to end. They talked about the performance they had just seen. Mr. Elia said, "The show is splendid. The dancers are very, very good. The tenor is also great, especially the Erhu player, indeed wonderful."
Mrs. Elia is a yoga instructor. She said she liked the spiritual message in the show the most: "I was unusually moved by the performance, particularly with how the show is filled with a divine message. The divine message and the dancing unify so perfectly. I liked the dance movements very much. I am very happy to have been able to enjoy the show today. Every single dance movement shows divine nature, truly so perfect."
Mr. Elia most of all enjoyed the dance "Heaven Awaits Us Despite Persecution": "I like the dignity and mercy displayed as they refuse to renounce their belief. I also like the spirituality in the show. Falun Dafa shows persistence and endurance facing the persecution, and they are always full of hope for the future."
"I feel unusually comforted, as Falun Dafa very strongly resists the persecution." Mr. Elia added: "After watching the show, I thought: we need true justice and a tenacious will to resist a dictatorship, and we must hold hope forever."
Economist: I Found a Treasure Watching Shen Yun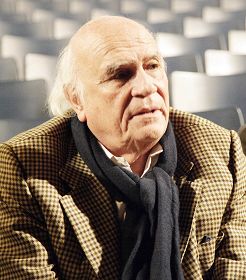 Mr. Pruzzo said, "I really appreciate that my friend invited me to see the show. I love Shen Yun!"
On the night of July 3, Argentine economist Mr. Angel Alberto Pruzzo and wife were invited by attorney Adolfo Casabal Elia, to watch the 6th show by Shen Yun Performing Arts at the Auditorio Belgrano. They all loved Shen Yun's wonderful performance and spiritual connotation.
"Shen Yun is a dance performance that at the same time has many deep moral meanings." Mr. Pruzzo said: "I really appreciate that my friend invited me to see the show. I love Shen Yun!"
"I have deep appreciation the message that 'seeking the truth' is a priority. It also sends a message of 'hope, understanding and tolerance' which is very important."
Mr. Pruzzo also expressed, "On the other hand, the dance movements are so grand and expansive. They actually have an extremely tranquil and gentle feeling. In western society, our movements appear to be quite direct, but Shen Yun, which is full of tranquility, makes people feel good and at peace, leaving them eagerly anticipating more!"
"The performance unfolds the value of Chinese ancient culture. Those colorful dances, and movements using the fans, all represent very diverse meanings in Chinese culture." Mr. Pruzzo added, "(The show's) colors are inconceivable. The sleeves of the costumes are like clouds and water, and hold secrets yet to be revealed! I can only say that being able to see the show today left me feeling as if I had found a treasure."
When Mr. Pruzzo was interviewed, Mrs. Pruzzo kept nodding and smiling. She agreed with him and added, "I am really impressed by the grand scale of the show. I counted and there were over 30 dancers performing on the stage several times throughout the show. Every performance is amazingly smooth like passing clouds and flowing water!"
Mrs. Pruzzo said, "Shen Yun is very different from other dance shows. Its stories alternates between modern day society and ancient times, a very interesting artistic technique."
Mrs. Pruzzo expressed surprise and was indignant when she learned that that Shen Yun is forbidden on stages in China: "This is indeed a big shame (in artistic circles), such a great show should be appreciated by everyone!"