On Children's Day, How Many Children in China Are Tearfully Missing Their Parents? (Photos)
(Clearwisdom.net) June 1st is Children's Day in China, one of the happiest days of the year for kids, but for many, it's another day without their parents. The CCP's persecution of Falun Gong has lasted ten years. As of May 2009, 3,266 Falun Gong practitioners have died as a result of persecution; at least 6,000 people have been sentenced to prison, more than 100,000 have been sent to forced labor camps, and thousands have been taken to mental hospitals. How many families have thus been broken, and how many children have lost their parents' care? Below we document the persecution of several Beijing practitioners and their families.

Qingqing lives in horror again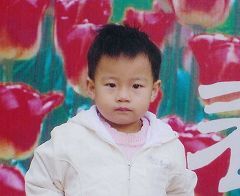 Niu Jingping and Zhang Liangying's daughter Qingqing
Qingqing is five years old. Even before she was born, her father Niu Jinping and mother Zhang Lianying had been arrested and detained numerous times.
On June 14, 2005, when Qingqing was barely one, numerous police officers from the Xiangheyuan Police Station in Chaoyang District, Beijing arrested her mother. After spotting a banner reading "Falun Dafa is good" near Zhang Lianying's home, agents from the 610 Office subjected her to two and a half years of forced labor.
While at the Beijing Women's Labor Camp, the guards urged criminals to torture Zhang Lianying. They gagged her with a damp towel, draping it also over her nose, making her unable to breathe. They removed the towel once she lost consciousness. Once she regained consciousness, they repeated the procedure and continued such torture numerous times every day.
Qingqing, only two, accompanied her father to call for help. They eventually had an opportunity to meet with Mr. Edward McMillan-Scott, Vice-President of the European Parliament. Niu Jinping explained his wife's plight while Qingqing sat there quietly.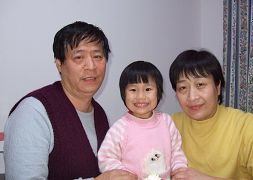 Qingqing with her parents
On December 13, 2007, Qingqing's mother was finally released from the labor camp. She was pale and thin, with big bruises all over her body. Regardless, Qingqing was still very happy to finally have her mother home.
Sadly, Qingqing's happiness came to a sudden halt four months later. On April 20, 2008, officials from the Chaoyang District Domestic Security Division and the Dongcheng Police Station seized Qingqing and her parents in an alley leading to their home. As soon as Qingqing and her parents walked into the alley, the police surrounded them and covered her parents' heads with black nets. They beat the couple right in front of 4-year-old Qingqing. Then they dragged them and Qingqing into a police vehicle.
Several days later when relatives came to pick Qingqing up, they saw Niu Jinping's face covered with bruises. Soon both Zhang Lianying and Niu Jinping were subjected to two and a half years of forced labor. According to a policeman, agents at the Beijing Police Department had planned this arrest. It turned out that a Beijing Deputy Mayor had ordered the couple's arrest no later than June 2008, before the Summer Olympics.
Niu Jinping was sent to the Tuanhe Labor Camp in Beijing. At present, he is held in the Strictly Controlled Team, where guards and criminals subject him to all kinds of torture. His teeth have come loose due to repeated beatings, and his once black hair has turned gray. He is also very thin.
Prior to the Olympics, Zhang Lianying was transferred to the Masanjia Forced Labor Camp in Shenyang City, Liaoning Province, a place notorious for using barbaric tortures on practitioners. Zhang Lianying went on a protest hunger strike there. A guard used a metal spoon to pry her mouth open and force-fed her with garlic water. After the force-feeding, Ms. Zhang's mouth bled severely. She had to lie on the ground for one day and one night. She was once handcuffed behind her back and hung up by the handcuffs for three days. After she was let down, she could only crawl out of the torture chamber. She was also shocked with electric batons and forced to stand for long periods of time. The guards often beat her with wooden sticks. Guard Liu Yong once handcuffed her to a door for all to see.

Four of Jialiang's family members arrested at the same time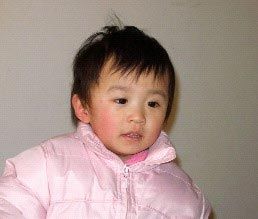 Yu Ping and Zhao Yumin's daughter Jialiang
Jialiang and her parents live in Zhoujiajing, Guan Village, Chaoyang District, Beijing. On April 19, 2008 seven officers from the Guan Village Police Station broke into her home. They ransacked it and took her father Yu Ping and mother Zhao Yumin away. Jialiang was only one then. Zhao Yumin's mother Qin Xiue and her younger sister Zhao Jingmin were arrested along with them. Zhao Yumin's older sister Zhao Rongmin was subjected to forced labor in 2006 and is still being held at Beijing Women's Forced Labor Camp. At present, Yu Ping and Zhao Yumin are being detained at Tuanhe Labor Camp in Beijing and Wuhan Women's Forced Labor Camp in Hubei Province, respectively. Jialiang's grandmother Qin Xiue, 68, is being held in Team One at the Taiyuan Women's Forced Labor Camp in Shanxi Province.
The police's barbaric actions greatly frightened Jialiang. She couldn't stop crying. Her brother Jiaqi, a high school sophomore and her grandfather, an man in his 70s with high blood pressure, are having a hard time taking care of her.
Jialiang's father Yu Ping was a Master's candidate student in the Department of Thermal Engineering at Tsinghua University in 1995. He was admitted to the department's doctoral program in March 1997 for his excellent academic performance, even before he finished his Master's studies. He won various scholarships and once served as graduate student association chairman and graduate students working group deputy head. He successfully defended his doctoral thesis in June 2000, and later won the best thesis award. However, since he had gone to Tiananmen Square to appeal for Falun Gong on June 20, 2000, Tsinghua University refused to confer to him the Ph.D. degree and only handed him a graduation diploma. At that time Yu Ping was awarded a full scholarship to study at Ohio State University, but his detention cost him the opportunity to study in the U.S. He was held at Beijing's Police Department Division Seven before he was sentenced to four years of incarceration and transferred to the Qianjin Prison in Chadian, Tianjin City.
As of 2000, Jialiang's mother Zhao Yumin was locked up at the Beijing Women's Prison for two years. The prison guards forced her to cross her legs on top of each other for extended periods. Her clothes were soaked with sweat due to the excruciating pain.

Jialiang's brother Jiaqi
With her parents, grandmother and aunt arrested right before the Olympics, Jialiang often cried non-stop. She especially missed her mom. Her brother Jiaqi quietly endures the sorrow of missing his parents. At the same time, he has to help their grandfather take care of their family-owned small grocery store, which is the only source of income for the three of them.
Huhu manages to survive in his sorrow and misery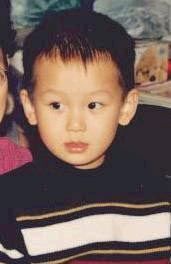 Yu Chao and Chu Tong's son Huhu
Huhu's legal name is Yu Guizhen. His mother Chu Tong holds a Master's degree from the Institute of Microelectronics at Tsinghua University, and was an instructor there. Huhu's father Yu Chao graduated from the Department of Precision Instruments and Mechanics at Tsinghua University and is a network engineer who used to work in a foreign company in Beijing.
Chu Tong was arrested while unfurling a banner in Tiananmen Square and was covertly sentenced to 18 months in the beginning of 2000. Police kept harassing her after her 2001 release. In order to avoid further persecution, she and her husband Yu Chao gave up their high-paying jobs, took Huhu and went into exile. Such a self-chosen, destitute life was too hard on Huhu, and they made a difficult decision, to have other people look after Huhu for the time being. Before parting ways with his parents, Huhu, who was not yet four then, raised his head and said with tears in his eyes, "Mommy, come pick me up when there's no more bad people."
In August 2002, Yu Chao, who was just released from prison a few months ago, was arrested again, together with his wife Chu Tong, for postings on-line to expose the persecution of Falun Gong. The police sent the couple to the Beijing Legal Education Center in Tuanhe, a fancy name for a brainwashing center. Yu Chao went on a persecution protest hunger strike. The guards slapped his face with rolled-up magazines and flicked his eyes with their fingers. They spread his four limbs on a bed and tied him up. They also refused him basic hygiene or toilet use, making him relieve himself into his clothing. He was tied up like this on the bed for close to five months. He wasn't even let out during meal times. In the end, he developed muscular atrophy. The guards and "helpers" went in to brainwash him one after another, yet no one could shake his faith.
On April 22, 2004, Chu Rong was sentenced to 11 years and sent to the Beijing Women's Prison. Yu Chao was given a nine-year sentence and sent to the Qianjin Prison in Chadian, Tianjin City.
Ever since he turned two, Huhu has been going back and forth among various friends and relatives, completely losing a stable growing-up environment. The police forbade mother and child to meet each other for a very long time, which tormented both. At present, Chu Tong's parents, both close to 70, are taking care of the now ten-year-old Huhu. Huhu's grandmother developed a neurological illness due to frequent scares by the CCP, and her hands often shake uncontrollably.

Eight-year-old interrogated after his parents' arrest
Huang Ling was a teacher at the School of Science at the Communication University of China. Her husband Hu Chuanlin worked in the Provost's Office at Beijing's International Studies University. The couple was arrested on September 11, 2007 for practicing Falun Gong. At present, Huang is being held in the Shanxi Province Women's Forced Labor Camp, while Hu is serving two years of forced labor at the Tuanhe Forced Labor Camp in Beijing.
After Hu Chuanlin was arrested, the police took him to a hotel, where they interrogated him under torture from September 11 to 17, 2007. They repeatedly asked him where in his home he stored his Falun Gong books. To get him to cooperate, they tortured him with a smoke-spraying device.
After arresting the couple, the police summoned their eight-year-old son from his school and interrogated him for two hours. They asked where his parents had been recently. Unable to stand up to the pressure, the child revealed that his parents had recently visited Ms. Xuan.
The police soon arrested Ms. Xuan Jinge, a teacher in the School of Media Management at the Communication University of China. Claiming a Falun Gong brochure was found at her home, they subjected Xuan to two years of forced labor.
While Xuan Jinge was held at the Fengtai Detention Center, her father living in faraway Xinjiang Province became extremely anxious upon learning of her arrest. He died a few days later, unable to see his daughter one last time. Currently Ms. Xuan is locked up at the Shanxi Province Women's Forced Labor Camp.
Big sister and little brother miss their parents
Beijing practitioner Xu Miaoli and her husband Wei Shijun have two children. The big sister is in grade four, little brother in grade one. Both children miss their parents very much. After the parents' arrest, two people claiming to be from the Domestic Security Division stopped at their door and attempted to lure the children's grandparents, Wei Shijun's parents, to sign a prepared document to give up the children and send them to an orphanage. The grandparents firmly refused.
Wei Shijun used to be a photographer at the Institute of High Energy Physics at the Chinese Academy of Sciences. He began to practice Falun Gong in 1992. In the first half of 2002, he was arrested and sent to a detention center, where he was held for one year. The winter of 2002 was extremely cold. Detention center officials forbade his family to send in winter clothes, and Mr. Wei had to survive the winter in summer clothes. On top of this, the guards often shocked him with electric batons. In June 2003, he was sentenced to eleven and a half years. Mr. Wei is now at the Qianjin Prison in Chadian, Tianjin City. He was once tortured to the point of near death. He had severe problems with his liver and kidneys; his blood pressure was 100; he has lost almost all of his teeth and hair. The prison was fully aware of Wei's condition, yet they openly stated that Mr. Wei would be refused medical care and refused to accept medicine his family sent. They also turned away his family's request that he be released on medical parole.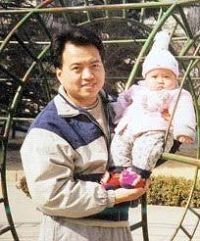 Wei Shijun and his children
Xu Miaoli, 37, was an English teacher at China's University of Geosciences and was fired from her post for her belief in Truth-Compassion-Forbearance. She was arrested at least seven times, each time being tortured to the point of being in grave danger.
In 2008, prior to the Olympics, the CCP launched a nation-wide mass arrest of practitioners. On April 20, 2008, Shijingshan Police Department agents intercepted her on her way to work. She was initially held in the Shijingshan Detention Center and then in the Daxing Dispatch Center and transferred in June 2008 to the Beijing Women's Forced Labor Camp. After her arrest, she was subjected to numerous tortures and is bruised everywhere. Oftentimes, even before her old wounds heal, the guards injure her again. They often beat her, slap her in the face, make her stay in a confinement cell or have her sit on a small bench for a long time. She was forbidden toilet access and had to relieve herself into her clothing. Guards Bai Lianna and Xia Xi, along with two criminals, kept close watch on her. They also deprived her of sleep. Her legs are swollen from the persecution.
Xu Miaoli and Wei Shijun's son and daughter miss their parents every day and long for their return.
The above-mentioned accounts are just a few incidents regarding the persecution that several Beijing Falun Gong practitioners and their children have suffered. Many more such tragedies still need to be exposed.
On behalf of all the persecuted parents and their children who are suffering under the persecution, we call on kindhearted people to help disintegrate the CCP, stop the persecution and return a happy childhood to these children!
Below are five pictures taken before the 1999 persecution of Falun Gong began. Young Falun Gong practitioners in Beijing then peacefully practiced the Falun Gong exercises. We hope that the people of China will have freedom of belief, and that soon children like these and their parents will be able to practice in peace.