Even After Her Family Was Devastated by the CCP, Ms. Fen Xiaomei Was Arrested Again (Photo)
(Clearwisdom.net) Ms. Feng Xiaomei, a Falun Gong practitioner from Shijiazhuan City, Hebei Province, was arrested on April 27, and is being detained at the Shijiazhuan City Police Station. Her whole family steadfastly cultivated in Dafa and abided by Truthfulness-Compassion-Forbearance, and, as a result, were persecuted by the Chinese Communist Party. Some of them died and the whole family was devastated.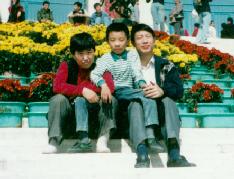 Ms. Feng and her husband, Wang Hongbin, with their son, Wang Boru
Ms. Feng's husband, Wang Hongbin, was an engineer in a telecommunications equipment company. He began cultivating Dafa in 1994. At dawn on July 20, 1999, the police arrested the couple, leaving their son, who was still in grade school, on his own. Mr. Wang was detained for three months. Both Mr. Wang and Ms. Feng were forced to resign from their jobs in 2000. On December 5, 2000, police from the Shijiazhuan 610 Office and Shijiazhuan Changan District Police Department ransacked their home and arrested Mr. Wang. They interrogated and tortured him, and then sent him to a forced labor camp for two years. He was badly traumatized in the Shijiazhuan Forced Labor Camp and was extremely weak by the time he was released in November 2002. He sweat profusely, coughed a lot, and could not fall asleep at night. He died on October 9, 2003, at the age of 39.
Ms. Feng's younger sister, Feng Xiaomin, was arrested by officers from Donghua Street Police Station in Shijiazhuan City in May 2001. She was tortured and interrogated by the political instructor, Mr. Shi, and officer Fang Zhiyong with the police station. She fainted several times. She was forced to stay away from home and died in 2004. Her one-year-old son, little Tianxing, was adopted by Feng Xiaomei. Their father could not withstand the hardships and died in 2005 after being harassed by the police repeatedly.
At noon on April 27, 2009, officers from Shijiazhuan City Police Department went to Ms. Feng Xiaomei's workplace to harass her. They arrested her and took her to the police department, leaving her mother alone with the two school-aged children at home.
Ms. Feng worked at Sifang Communications Company in the Qiaodong Developing District. As a high level manager, she was very competent in her work, treated people kindly, and was well respected by everyone. She worked hard to support her mother, her son and her sister's son.
With Ms. Feng's arrest, her mother and the two children have no means of support.
We urgently appeal to righteous people around the world to help save Ms. Feng Xiaomei.
Organizations and people involved:
Huibei Road Neighborhood Association, in the Yuhua District, Shijiazhuan City
Li Wei, Secretary : 86-311-86021647, 86-311-85820054 (former secretary Gen Lingling has been transferred out)
Dongyuan Office of Yuhua District, Shijiazhuan City
Secretary Mr. Bai: 86-311-85877545
Director,Mr. Qie, General manager's Office: 86-311-85825360
Dongyuan Police Station of the Yuhua District Police Department, Shijiazhuan City
Chief Ji Genshen: 86-13785182823 (Cell), 86-311-85878948
Instructor Liu Yuhong: 86-311-85888946
Shijiazhuan City 610 Office
Director Liang Jianbin : 86-311-86686716 (Office), 86-311-85804135 (Home), 86-13653312118 (Cell)
Yuhua District Police Department, Shijiazhuan City:
Deputy Chief, in charge of Falun Gong matters, Li Jun: 86-311-85188689 (Office), 86-311-83659948 (Home)
Political and security squadron Captain Zhang Jiansheng: 86-311-86122691, 86-13931976525 (Cell)
Related article: http://www.clearwisdom.net/emh/articles/2007/10/10/90372.html