Philadelphia: Rally Supports 50 Million Withdrawals from the Chinese Communist Party (Photos)
April 17, 2009 | By a practitioner from Philadelphia
(Clearwisdom.net) On April 12, 2009, the Service Center for Quitting the Party in Philadelphia held a rally to support 52 million withdrawals from the Chinese Communist Party (CCP) in Chinatown.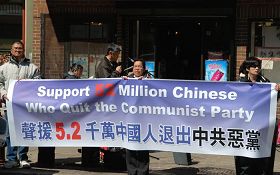 The rally
Forty-one year old Mr. Zheng quit the party at the rally. He said that he knew about the persecution of Falun Gong, and his wife was also persecuted in China because she wanted a second child.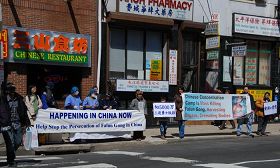 Re-enacting the organ harvesting
Mr. Zheng said many of his friends have quit the party or its affiliated organizations. He said if it were not for the CCP, who would want to leave his hometown? Everyone knows that the Nine Commentaries on the Communist Party is factual. He said his friends are talking about quitting the party, and encouraging each other to do so.
One passerby said the almost everyone in the local Chinese association has quit the party, and now it is time for people in the Chinese embassy.
Mr. Lei from Taishan, Guangdong quit the party at the rally and asked how to help his family members in China to quit.
Mr. Lei
Mr. Lei said he was in the 6th grade when the Tiananmen Square Massacre happened. He and his friends were mad at the CCP, but they didn't dare to say anything in that environment. After he came to America, he read the newspaper The Epoch Times and the book the Nine Commentaries on the Communist Party, and was happy to see so many people quitting the party. He felt lucky that he came to Chinatown on this day and saw the rally, so he quit the party at the rally right away.
Mr. Lei asked how to help his relatives in China to quit the party. The volunteers at the service center told him the methods and gave him the hot line number: 215-906-2017.
Mr. Yao from Philadelphia came to the rally to support the withdrawals. His father was a high-ranking officer in the Kuomingtang. In 1958, he was executed by the CCP.
Mr. Yao said that he recognized the evil nature of the CCP, and that more and more people are recognizing it. Mr. Yao said, "Who really wants to work for the CCP? The CCP is controlling people with money." He reminded people not to believe what the CCP says, because it is all lies.
Mr. Luis Vargas and his wife Karla drove by Chinatown and saw the banners at the rally. He asked about what was going on. When he understood, he said the trend of quitting the party is a historic landmark. He congratulated the people who had withdrawn and expressed his respect.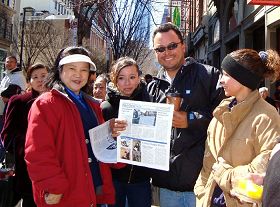 Mr. Luis Vargas and his wife Karla
More than 52 million Chinese people have quit the party and its affiliated organizations since the Nine Commentaries on the Communist Party was published four years ago. Every day, around 50 thousand people withdraw from the communist party.