I'll Recall the Splendid Show After Returning Home (Photo)
January 06, 2009 | By Li Si
(Clearwisdom.net) On January 3, 2009, Divine Performing Arts (DPA) New York Company staged their second show at the Ottawa National Art Center. Marie Paule especially liked the legends in the show.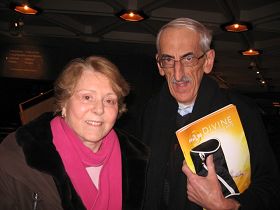 Marie Paule and her husband Jean commend the splendid show
Ms. Paule and her husband are retired. Ms. Paule worked in parliament before retiring, and Jean was a high school history teacher. This was their first time seeing a DPA show.
Ms. Paule praised that the show was really outstanding. She felt that the colors, dancing and everything else seemed very harmonious. She especially liked the legends in the show. She said she would read the brochure carefully after going home and recall the splendid show.
Ms. Paule and her husband had just returned to Canada from a tour in China. Her husband Jean thought that their attending the show was not coincidental. He read some books on China before visiting China, and he knew China was influenced by Buddhism.
"Through watching the show, I know that DPA is promoting Chinese traditional culture." said Jean. He especially liked the rich diversity of cultures in the DPA show. He said the first program manifested DPA's mission to spread compassion and openness.
Jean said he felt a profound accomplishment after seeing the DPA show. He praised the two hosts in using three languages (English, French, and Chinese) to introduce and explain the programs, which was very good for the Ottawa audience.