Former California Mayor: DPA Show "Was the Closest Thing to Heaven!" (Photo)
(Clearwisdom.net) Divine Performing Arts International Company staged the fifth of eight shows at the Pasadena Civic Auditorium in Los Angeles on the evening of January 1, 2009. Former California Mayor and newspaper publisher Eugene Moses was thrilled with the performance, showering the show with highest praise.
After Mr. Moses completed his 11-year tenure as mayor of the City of Azusa, California, he decided to publish the San Gabriel Valley Examiner, a now popular community newspaper.
During intermission he was asked why he had decided to co-sponsor the DPA show in Los Angeles, to which he replied, "I think that one reason is that I think the Chinese people are one of the greatest people in the world. I think that everything they do, they put their heart into. They're decent people. They come from the old school, and so do I. I like to follow their principles. That's one of the big reasons."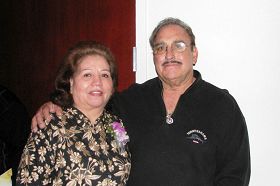 Mr. Moses and his wife
"The Costumes and Scenery Were Out of This World"
When the reporter asked Mr. Moses what he liked most about the show, he replied, "The show is very spiritual and heartwarming ... the costumes were something out of this world! And not only the costumes, but the scenery was out of this world, too. It looked like the closet thing to Heaven."
He continued, "When you are looking at the pretty girls and nice looking men--all dressed nice and respectful--it's something you hardly find these days when people do shows. But these ladies and gentlemen were all respectful, and it was just a tremendous thing to look at."
He thought each piece was impressive and that most people could learn something from them. "All of the stories, in their own way, were impressive because there are different parts of China, different cultures, and just about all of them have something you could learn from and that you could feel."
"There's Something Above and Beyond"
Mr. Moses felt that the show conveyed a very definite spiritual message to the audience. "The message is about a lot of things that come from Heaven, you know, from beyond ... The show brings you closer to that (spiritual) feeling, or at least it brought me closer to that feeling, that there's something above and beyond."
The reporter asked him if he was going to introduce the DPA to his readers, to which he replied, "Oh certainly, certainly. We're going to do a story. Definitely. When I was mayor, I used to go to almost all of the Chinese New Year performances."
Mr. Moses introduced his wife, saying, "My wife, Imbay, is from the Philippines, so she probably has some Chinese in her. And my wife's sister was the business editor of the China Morning Post."
When Mrs. Moses was asked to share her feelings about the show, she said, "All I can say is that it is really beautiful. Very handsome. I noticed that the Chinese are very modest people, and humble, very humble. Very decent people. Yes, I am glad I can be called an Asian."
"It's Beyond Belief It's So Beautiful!"
Doug Cox, a web master, and his brother, Chris Cox, a government employee, attended the show together.
Doug was in awe of the performances, saying, "It's beyond belief it's so beautiful! The music is fantastic and there's just an atmosphere of joy to it that you wouldn't be able to appreciate unless you've seen the show. It's wonderful!"
He especially liked the way that one story flowed into the next. "The way they all flowed into one another, they do tell a story. There is a narrative that flows through all of them. In a sense they are all connected, and there is, let's say, a spiritual sense to it that I found very appealing."
Chris had similar feelings about the show, saying, "It's beautiful. I was just taken aback by it. It is hard to articulate it all at once, without a lot time to be able to do it justice. But I am enjoying it very much so far. I liked the dance 'Flowing Sleeves.'"