Audience Members in Pasadena Express Their Enjoyment and Gratitude after Seeing the 2009 Chinese New Year Spectacular (Photo)
(Clearwisdom.net) The Divine Performing Arts' 2009 Chinese New Year Spectacular played in Pasadena, CA, on January 2, 2009, at the Pasadena Civic Auditorium. The show celebrates traditional Chinese culture through its display of different dynasties, traditional Chinese dance, regional influences, and traditional stories and themes. A common response to the show from audience members was to thank the interviewer for bringing this kind of show to their city.
A young woman who works in the provost's office at Cal Tech said, "I loved it! Most of all, I am glad you helped sponsor it so we could see it." When asked what she specifically liked, she responded, "Everything about it, from the costumes to the music, the performances, the choreography, the background, and the pace--you never got bored. There was always something new and exciting, always moving."
Kwan Lee is the Acting Director of Special Events at Korea Times. He grew up in Korea and immigrated to the United States. Mr. Lee acknowledged how much culture Korea shares with China, and he gave his impression of the show. "I really, really loved it! It was great to see Asian culture on stage in Pasadena. And there were so many beautiful cultural aspects to it. So as an Asian-American, I really enjoyed the show. I was glad to see some of the Chinese minorities from different parts of China represented in the show. And I was really glad to see some of the Chinese fairy tales that I used to read as a child." Mr. Lee said that, as an overall production, the show was well executed. He especially liked the piece about the Monkey King "because I read the story as a child and have seen dozens of different versions in cartoons and movies."
Regarding the portion of the show about the persecution of Falun Dafa, Mr. Lee said, "I've heard about it--that they are persecuted because of their belief. Because I live in America, I strongly believe that we should all have freedom of speech and freedom of expression.
"I really admire the performers and the organization that put this show together and how dedicated they are to putting the traditional arts on stage."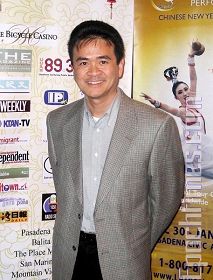 Dr. Ralph Basilio from NASA
Ralph Basilio is a project manager in NASA's Jet Propulsion Laboratory in Pasadena. After seeing the show, he stopped to say, "It's very nice! Very nice." Asked what he enjoyed specifically, he said, "Overall, just [thinking about] the history. Being able to see the five thousand years of Chinese culture. And it's being portrayed in the music, the dance, the songs. Everything about it. I really enjoyed it.... The way it was portrayed today can be understood by anybody and everybody. There was a message of prosperity, hope, and joy. And I think that's very important in today's world, to be able to see beyond the economic crisis in the world and to be able to know that there's hope for the future."
Rochelle Branch is the cultural affairs manager for the City of Pasadena. Here is her response to being asked how she liked the show, "I want to welcome you. A spectacular performance! Very traditional! This is a city that appreciates and respects tradition. Your performance has beautiful dance movements, lovely costuming, and the music! I think it speaks to everyone! Thank-you so much!" Ms Branch said that everyone can relate to and understand the culture expressed in the show by way of the "beauty and grace." Ms. Branch especially liked the performance that told about the Monkey King ("The Monkey King Triumphs"). She enjoyed this new way of telling an old story in Chinese culture, and she said all cultures have similar stories and figures. "And anybody would have an appreciation for the beauty and the music and the dynamism of the stories. It was also kind of fun to see the background on the screen with the figures going up. That was a new element that really made it very fun. I think a lot of different generations would appreciate that as well, from kids to older people. Thank-you so much for coming to our city! We appreciate it."
Sandra Kulli, a marketer for home builders, said, "I just got back from Beijing. I love the diversity of China, and the show reflects that beautifully! I love the dance and history. It's wonderful! A lot of passion in the dancers, too--beautiful! When I was in Beijing, I spoke to our guide about the Falun Gong, because I had read a book [that] basically said that when the Falun Gong came to Tiananmen Square, they would sometimes be taken away without being able to express their feelings about their religion. And our guide said she didn't know anything about that. It's very interesting to see their perspective in the show. So, thank-you."
Sandra brought two young women to see the show. Claire Skelley, a young actress and singer, said, "The culture is very interesting to learn about, how they express their feelings through dance. It's just very interesting to watch."
Many people of different cultures came to see the show. Tatiana Silver, an actress in Pasadena, said in her strong Eastern European accent, "I really liked it! I think Chinese culture is very interesting. This is something that everybody has to know about. It's like thousands of years old. I think this culture is getting lost. And I don't really think Chinese people really know their culture, especially people who live in America. It is good for everybody to know about it." When asked about the more artistic aspects of the show, Tatiana said, "I used to dance some time ago, and I think their dancing was very professional. Every movement, the eyes, the fingers--if you sit close you can really see it. It tells you a lot, something in the heart and the soul. It's very touching. Actually, I was crying when I saw the little girl [in the piece about the persecution of Falun Dafa "Heaven Awaits Us Despite Persecution"]. It's very sad. It shouldn't happen, something like that, in the world."
A singer, Mary Francis, attended the show. When asked her impression of the singers in the show, she replied, "They were wonderful! I particularly liked the contra alto. I think she had a very interesting voice. Yes, very nice."