Divine Performing Arts a Big Success in Seattle (Photos)
January 21, 2009 | By Minghui reporter Huang Kaili
(Clearwisdom.net) On January 18, the Divine Performing Arts (DPA) International Company held two shows at the Paramount Theatre in Seattle, both of which were warmly received in this "Evergreen City."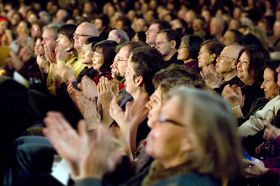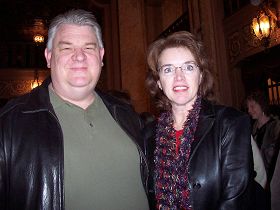 David and his wife Shirley
David works for the Boeing Company. He came to the show with his wife, and both liked the show very much. Shirley said she could sense the energy in the show, and especially liked the scene in which all the Buddhas come down to earth from heaven. To her, it demonstrated the spirit of compassion.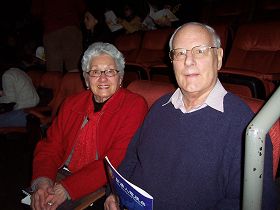 Bob Harris and his wife Sylvia
Bob Harris and his wife Sylvia watched the afternoon show and were amazed by the spectacular Chinese culture.
Sylvia liked the way the artists told historic stories through dance. She also liked the colorful costumes.
Bob said there are many Chinese people in Seattle, who contribute a lot to the local culture. They were glad to see DPA performing there.
Bob liked the drum dance the most, whereas Sylvia was amazed by the vocalists.
Theresa, a local lawyer, adopted two Chinese daughters. She had also brought them to the DPA show last year and said that she would do this every year. Her daughters are learning Chinese dance too. She wants them to know more about their own culture. She knows the DPA show portrays genuine Chinese culture.