Second Divine Performing Arts' Mid-Autumn Spectacular Successfully Concludes in Toronto (Photos)
September 30, 2008 | By Minghui reporter Zhang Yun in Toronto
(Clearwisdom.net) The sixth presentation of the Divine Performing Arts' Mid-Autumn Spectacular successfully concluded on September 28, 2008, at the John Bassett Theater in downtown Toronto. The audience left with wonderful memories.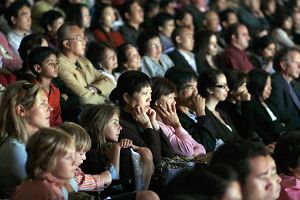 The audience attentively watches Divine Performing Arts' Mid-Autumn Spectacular in Toronto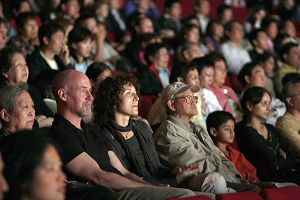 The audience watches the Mid-Autumn Spectacular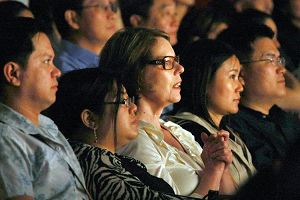 The spectators are engrossed in the Spectacular presented by Divine Performing Arts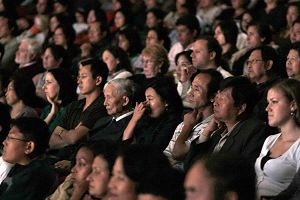 Spectators at the Divine Performing Arts show in Toronto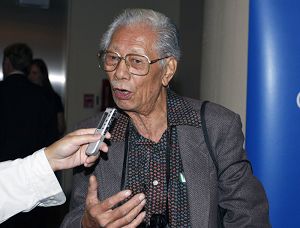 Zhang Zuoxin, chairman of the China-Canada Cultural Exchange Association
Overseas Chinese students and new Chinese immigrants are impressed by Divine Performing Arts show
Mr. Lu is an overseas Chinese student. He said, "The performance can truly showcase the inner meaning of 5,000 years of Chinese culture. I have never seen such a performance, even when I was in China. All the programs are wonderful. The costumes are bright and colorful, presenting the beauty of paradise. The vocal artists were of high caliber. I could hear that they sang with great care.
"I feel very proud, and I'm touched that [Divine Performing Arts] can truly present the inner meaning of traditional Chinese culture to the world. What can truly touch the audience is the authentic traditional Chinese singing and dancing."
Mr. Lu said that he saw many Chinese traditions and stories in the show. As a young man, in his opinion, it is very important to learn the best values and morality in Chinese culture.
Mr. Zhang immigrated to Canada two years ago. He majored in industrial automatic control when he was in China. With a beaming smile, he told the reporter at the intermission that the performance was "excellent." He though every program was wonderful.
He said he had thought the show was going to be an ordinary performance, but it turned out to be much more that that. He would see it again if the opportunity presented itself.
He thought the show was a great reflection of traditional Chinese culture.
Mr. Zhang was deeply impressed by the dance performances "Water Sleeves" and "Mongolian Bowl Dance" and the selections that touched on the Communist Party's persecution of Falun Gong. He said the program that portrayed the persecution was quite realistic.
Another new immigrant whose surname is also Zhang said after the show, "Amazing. I have seen it once before, but this time it was even better, more mature. I'm grateful to this respected company for contributing so many good things for overseas Chinese."
Older overseas Chinese praise Divine Performing Arts for glorifying traditional Chinese culture
Mr. Lin from Guangdong Province used to be an actor. He is in his 60s. After attending the show, he said in a trembling voice, "Very good. Such a broad and profound performance touched my heart. I have never seen a performance so worthy of appreciation. Such delicate and profound dances! I was greatly touched."
He continued, "I will encourage all my relatives and friends to come see the performance. I feel I'm obliged to promote this work and help glorify the Chinese culture.
"I have been in Canada for 28 years, and I have never seen such a wonderful show. Unforgettable. I'm very grateful," said Mr. Lin.
Mr. Zhang Zuoxin came to Canada when he was a teenager and is now 77. He loves calligraphy and is Chairman of the China-Canada Cultural Exchange Association. He said he has attended performances by Divine Performing Arts every time they are in town. He said it was worth watching.
Divine Performing Arts promotes traditional Chinese culture and fine virtues, according to Mr. Zhang. "Chinese tradition values 'virtue.' Few people value it now. In China, it seems that the Chinese Communist Party does not have any morality. In ancient China, the principles of Kongzi (Confucius) and Mengzi were used to maintain social stability. For example, Confucius's teachings help people to learn propriety, righteousness, integrity, and honor."
Mr. Zhang was impressed by the performance "Power of Awareness" that touched on the persecution of Falun Gong. He said, "At the beginning, it was a peaceful environment, and then the Chinese Communist regime's police came to disturb and beat people. Then they dragged the little girl away. Later, everybody was united and drove the police away. What it presented is a fact, very good."
"The dancer I admire the most is Ren Fengwu. Her dancing is really pure and proficient. I'm not an expert, but I just feel that her every gesture and every move are so good," said Mr. Zhang.