Faculty and Students at Missouri State University Support Rescue Efforts for Falun Gong Practitioners in China (Photos)
September 20, 2008 | By a practitioner in Missouri
(Clearwisdom.net) Jin Pang is a graduate student in the College of Business at Missouri State University in Springfield, Missouri, USA. Her parents in China were detained before the Beijing Olympics. The police detained her father for one month even though he is not a Falun Gong practitioner. Now her father is under 24-hour surveillance at home. Ms. Pang was unable to make contact with her mother Cao Junping after the police took her away. No one knows her mother's whereabouts. The police in the Weifang City Public Security Office refused to disclose any information, even though Ms. Pang's family members inquired about Ms. Cao. Ms. Pang's aunt Cao Junfeng was sentenced to one year in a forced labor camp on August 10, 2008.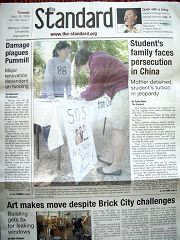 Report on front page of The Standard, the university newspaper of Missouri State University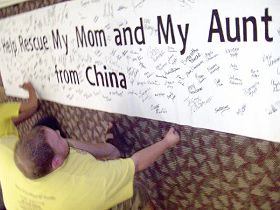 Banner with signatures calling for the rescue of Jin Pang's family members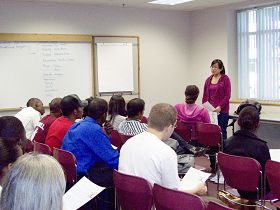 Members of student associations listen to Jin describe the persecution her family faces in China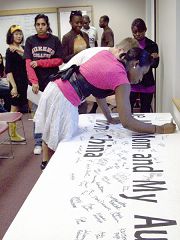 Signing the banner to support the rescue effort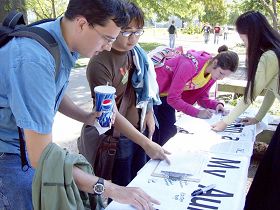 Signing to support the rescue effort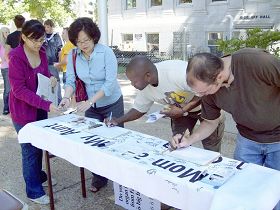 Signing to support the rescue effort
In order to rescue her mother and aunt and to call for help from the US government and others to stop the brutal persecution of Falun Gong in China, Ms. Pang and friends initiated a campus signature drive themed, "Help rescue my mom and my aunt from China."
Ms. Pang received support and help from students and faculty. Though the persecution in China seems far away, people were moved to hear that the family of a person in their midst is suffering from persecution.
Sara, a sophomore, saw the poster board on her way to class. After learning the facts, she said she would sign before going to class. She also put forward her ideas to help rescue Ms. Pang's family members.
Dianna is a member of the Nitelife Club and was very moved after learning Ms. Pang's story. She decided to invite Ms. Pang to her club to give a talk in order to let more people know about the persecution.
A student named Andrew wrote in an email that he obtained information about the rescue efforts. He did not have time to sign the petition initially, but after reading the touching story, he decided to come back and sign the petition.
A staff person in the International Student Service Center took a flyer when she passed by the signature collection venue on the first day. She signed the petition the next day and said she hoped to do more for Ms. Pang, such as make a financial donation. Ms. Pang declined the donation and said, "It would be more helpful if you could tell more people about this."
On the second day of the signature drive, The Standard, the university newspaper, carried Ms. Pang's story on the front page, and called on students and teachers to pay attention to the issue. The article stated that the support was not only for her and her family but was for human rights and humanity. The chairman of the Student Association told Ms. Pang that he would call on more students and student organizations to help rescue her family members.
In a conference of more than one hundred representatives from all student organizations, Ms. Pang narrated her family's suffering from the persecution and her own effort to rescue her family members. Her courageous and righteous action won warm applause. After the meeting, many people signed the petition and encouraged her to keep going in her efforts. Some said, "I'll pray for your family members. Your mother will return home safely."