(Clearwisdom.net) For the last nine years, Chinese Communist Party (CCP) officers have repeatedly arrested Mr. Liu Changde and his family for persevering in their faith in Truthfulness-Benevolence-Forbearance. This family has experienced unceasing persecution including ransackings, beatings, interrogations, and confiscations of property.
(Clearwisdom.net) Since December 2007, thirteen Falun Dafa practitioners from Dan County, Shandong Province have been severely persecuted by officers from the National Security Team of the Dan County Police Station and Heze City Police Bureau. Eight of them were arrested late in the night by police who illegally broke into the house. During unlawful interrogations of the practitioners, the police used their usual brutal methods, including pinching ears, hitting the face and cursing, and also deprived the practitioners of sleep for several days and nights. They even resorted to mixing nerve-damaging drugs into the hot water and food. The tortures were inhumane and cruel.
(Clearwisdom.net) Even after almost five years, Ms. Xu Yanxiang often experiences numbness in her hands and head from the severe abuse she was subjected to during three incarcerations at Gaoyang Forced Labor Camp in Hebei Province. The guards there injected her with unknown substances that resulted in a large swollen lump that did not go away. One day in the summer of 2004 the lump spread. That same day, her right side swelled, and she felt pain in the right side of her stomach, causing her to lose sleep for two days. The entire right side of her body became stiff, making it extremely uncomfortable for her right leg to be in a prone position. During those days she was most afraid of falling asleep, fearing that once she slept, she might never wake up. If she didn't sleep, she was extremely sleepy. When she slept, she felt as if she had fallen into a dark and horrible place - as if she passed away. When awake, she was muddle-headed and had to try so hard to understand what was going on, and where she was. Slowly, she gained some consciousness and moved her arms and legs. The right side of her body was completely numb.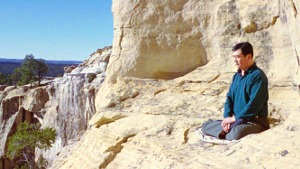 Master Li quietly watching the world from amidst the mountains after leaving New York following July 20th, 1999. (Published January 19, 2000)