(Clearwisdom.net) On August 6, 2008, the Paris-based satellite company Eutelsat Communications shut down New Tang Dynasty Television's (NTDTV) broadcast signals on its W5 satellite under the pretext of a "technical problem." As a result, a large number of Chinese viewers in mainland China have been unable to access NTDTV's programs.
(Clearwisdom.net) In the fall, the Kansas City metropolitan area hosts many outdoor activities. Local practitioners take these opportunities to bring the beauty of Falun Dafa to more Kansas City area residents and visitors.
(Clearwisdom.net)
During the Olympic Games, the Nanyang City Police, National Security Bureau and
610 Office
collaborated to intensify the persecution of Falun Gong. They divided the city into clusters, and then into units of neighborhoods, communities, villages and workplaces. They dispatched authorities to monitor, follow and report on Falun Gong practitioners. They arrested many practitioners, holding some in brainwashing centers, and extorting "deposits" from them.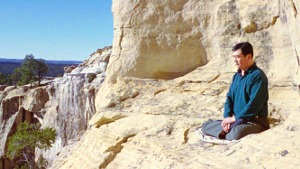 Master Li quietly watching the world from amidst the mountains after leaving New York following July 20th, 1999. (Published January 19, 2000)